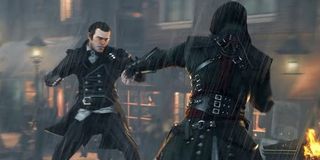 Ubisoft will be announcing their new Assassin's Creed game next week. However, this game won't be going by the name Assassin's Creed Victory as initially expected.
The first marketing materials for the game, leaked to Polygon, reveal that the next Assassin's Creed game is actually called Assassin's Creed Syndicate. A Kotaku report published this week says the same.
While the name of the game has changed, the setting and time period haven't. The materials obtained by Polygon say that it will "transport millions of gamers to an astonishing recreation of London during the Industrial Revolution where they will find themselves immersed in a game world they'll have to see to believe."
The latest leak also reveals the identity of the new hero. Assassin's Creed Syndicate will put players in the role of London-based Assassin Jacob Frey. He's presumably the owner of the heavily-armed hands Ubisoft showed off in the brief teaser video for the game.
While Polygon's report doesn't share any other details about Frey, they do mention that a replicate of his shilling necklace will be a GameStop pre-order bonus - which I guess means their source works at GameStop. Expect Ubisoft to start offering pre-orders immediately after they announce Assassin's Creed Syndicate.
The initial report about Assassin's Creed Victory from December said that players will have a new grappling hook at their disposal. This tool will make it easier for them to travel across the city and also swoop down on their prey. The report also mentioned players could ride on top of carriages or trains. In some cases, they'll even fight enemies on top of these vehicles as well.
Assassin's Creed Syndicate will be the first game in the main series primarily developed by Ubisoft Quebec rather than Ubisoft Montreal. The first report about Syndicate said that the game is only coming to PS4, Xbox One and PC. It's unclear whether Ubisoft is planning to release a separate AC game on last-gen consoles this fall as they did last year.
Ubisoft will officially announce Assassin's Creed Syndicate at Tuesday, May 12th at 9 am PDT. I'm half-expecting another leak will steal Ubisoft's thunder. Something similar happened a couple weeks back with Call of Duty: Black Ops 3. The day before the first trailer arrived, several pages of details about the game's multiplayer and single-player leaked.
In the case of Assassin's Creed, leaks are par for the course. Assassin's Creed Unity and Rogue were both outed by Kotaku before Ubisoft could announce them. Rogue's first trailer was leaked, too. Assassin's Creed 4 was discovered by Reddit eavesdroppers prior to the official announcement.
Your Daily Blend of Entertainment News
Staff Writer at CinemaBlend.