Assassin's Creed Unity Patch 4 Released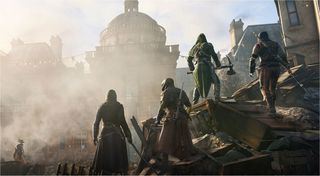 Assassin's Creed Unity has had a real rough go of the marketplace ever since it released on November 11th. Ubisoft has hunkered down in the trenches in the patch wars attempting to fix Assassin's Creed Unity and its plethora of issues. Ubisoft has recently released patch 4 to the public for the broken game.
Ubisoft recently made a public statement about the patch being delayed, posting on the Assassin's Creed community website...
Nevertheless, Ubisoft recently released an update on their website noting that the patch is now live for home console owners and that the PC version will release later in the week.
Gamers have responded with a lot of confusion and frustrating, especially given that the patch issued on the PlayStation 4 that clocks in at 6.7 gigabyte and only fixes some of the issues but not all of them.
Some believe that the Assassin's Creed Unity patch fixes some issues but doesn't address others, with one user stating...
Take note that Xbox One and PC users throughout the thread have posted saying that they did not receive the 6.5GB patch.
One of the things mentioned in the update is that the entire Paris map had to be "refurbished"...
This vague information doesn't really sound very promising at all. Just for clarity purposes, if a design team has to "refurbish" a map it means that they had to recompile the map after fixing geometry or object placement issues. This is usually something that's addressed during the production phase, especially during quality control tests in the alpha and beta phases of development.
Ubisoft does address this in their newest update, stating...
Recompiling the map would mean that players would have to completely re-download the map assets. It's identical to when you mod image, model or vehicle data in GTA and something gets corrupted and you have to completely re-download the specific asset files if you're using the Steam version of the game.
You can check out the full patch notes for Assassin's Creed Unity over on the official Ubisoft forums.
Staff Writer at CinemaBlend.
Your Daily Blend of Entertainment News
Thank you for signing up to CinemaBlend. You will receive a verification email shortly.
There was a problem. Please refresh the page and try again.