Bastion Developer's Transistor Is Playable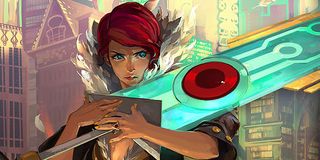 Supergiant Games announced this weekend that they've nailed down all of the features of their sci-fi RPG Transition. The studio, best known for action RPG Bastion, managed to finish the entire campaign of their new game before the holidays.
Transistor stars Red, a singer who finds an powerful sword of unknown origin. She must use the blade to fight off the Process, an organization that wants the sword (the titular Transistor) for themselves. As Red travels through her futuristic city, she'll slowly unravel the mystery behind her weapon.
The combat is quite different than Bastion's. It mixes real-time action with turn-based strategy. Red has to evade enemies' attacks until her action bar fills up. Once it's full, she can plot out several movements and actions.
"After our reveal of Transistor went over as well as it did back in March, our goal became very clear: to keep doing everything we can to make the full game live up to the first impression," Supergiant's Greg Kasavin said on the company blog. "We had our second major showing at E3 a couple of months later, where we announced the game is coming to PlayStation 4 and PC. We had one more big showing planned for this year, which happened at PAX Prime. Then after that, we wanted to hunker down and work on the game for the rest of the year. And that's exactly what we've done."
"Right now Transistor is in an alpha state where just about all of the content, systems, and features we have in mind are implemented in some fashion, and the game is playable from beginning to end. It's where we wanted to be as we head into 2014."
Kasavin added that the team will be testing and tweaking the game over the next few weeks. They'll begin discussing additional details on the game, such as its release date, once they're further along in the process.
I think a lot of gamers were hoping Supergiant make a sequel to Bastion. However, Transistor looks very promising so it's tough to second-guess the studio's decision to put Bastion aside and start over with a fresh story. I think that, as gamers learn more about Transistor, they'll mourn the lack of Bastion 2 less and less.
Image 1 of 4
Image 2 of 4
Image 3 of 4
Image 4 of 4
Staff Writer at CinemaBlend.
Your Daily Blend of Entertainment News
Thank you for signing up to CinemaBlend. You will receive a verification email shortly.
There was a problem. Please refresh the page and try again.