Batman Arkham 3: Possible Titles Revealed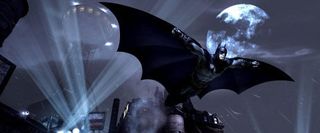 Warner Bros. looks like it's starting to consider possible names for the sequel to Batman: Arkham City. They've apparently registered a number of website domains that sound like potential titles.
Fusible reports that 15 different domains were registered on January 10th. These domains were filed by Mark Monitor, a company that purchases domains on behalf of third parties. Warner Bros. is one of Mark Monitor's clients.
The domains all include the word "Arkham" in them. That's about the only part of the title that WB seems to have decided on:
arkhamuniverse.com (Arkham Universe)
batmanarkahmuniverse.com (Batman Arkham Universe)
batmanarkhamarises.com (Batman Arkham Arises)
batmanarkhambegins.com (Batman Arkham Begins)
batmanarkhamdarkknight.com (Batman Arkham Dark Knight)
batmanarkhamknight.com (Batman Arkham Knight)
batmanarkhamlegend.com (Batman Arkham Legend)
batmanarkhamlegends.com (Batman Arkham Legends)
batmanarkhamnight.com (Batman Arkham Night)
batmanarkhamorigins.com (Batman Arkham Origins)
batmanarkhamstories.com (Batman Arkham Stories)
darkknightarkham.com (Dark Knight Arkham)
dcarkhamuniverse.com (DC Arkham Universe)
dcarkhamverse.com (DC Arkhamverse)
thearkhamuniverse.com (The Arkham Universe)
As Fusible notes, these domains might not be for a new game. WB might just be registering these domains to protect their brand. Or they might be planning a different Arkham project entirely, such as a film.
In July, report suggests that the third Arkham game is a prequel set in the Silver Age. It's said to center on Batman's first encounters with the Joker. Paul Dini, who wrote the first two games, said he won't be working on the third title.
Staff Writer at CinemaBlend.
Your Daily Blend of Entertainment News
Thank you for signing up to CinemaBlend. You will receive a verification email shortly.
There was a problem. Please refresh the page and try again.