Batman: Arkham Knight's PC Patch Will Fix Major Problems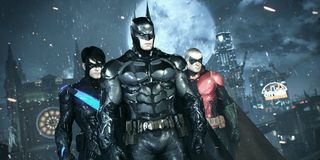 Batman: Arkham Knight's developers are on the verge of releasing another update for the troubled PC version of the game. They've released preliminary patch notes and announced a rough release window.
The next PC patch, the second since the game's launch, will finally allow gamers to bump the framerate above 30. The update will also add a number of new in-game options and fix some lingering performance issues. Here are the patch notes posted on the game's forums, which Rocksteady Studios says only include "some of the major fixes and improvements" in the full update:
Reduced frame rate hitches
Optimized system memory and VRAM usage
Min Spec AMD GPU is once again the Radeon HD 7870 2GB
Added the ability to change settings for Max FPS to 30/60/90
Added toggles for Motion Blur, Chromatic Aberration, and Film Grain
Added a "High" Texture Resolution value
Added Texture Filtering option
Added an Adaptive V-Sync option (NVIDIA only)
Added VRAM Usage Meter
Added Mouse Sensitivity Slider & Mouse Smoothing Option
Fixed low resolution texture bugs
Fixed hitches when running on mechanical hard drives (HDD)
The patch won't include the DLC packs released on PS4 and Xbox One so far, or post-launch features like Photo Mode. Rocksteady says that they're working to add all this content in the future, though.
Nonetheless, this update is way more substantial than the first patch for the PC version. It's going to check off many items on Rocksteady's to-do list for the game.
Rocksteady previously planned to release the second PC patch in August. However, it seems they're going to miss that deadline. They'll provide a status update on the patch in two weeks, and expect to release it publicly in "the next few weeks."
The technical issues with Arkham Knight's PC version led publisher Warner Bros. to stop selling the game on that platform altogether. A leaked retailer report suggested it wouldn't go back on sale until the fall. With this new patch not due until September at the earliest, that seems like a reasonable bet. The game's re-release date presumably depends on how effective this patch is at fixing the game's long list of problems.
It's too bad that so few people have been able to play Arkham Knight on PC. Modders have done some great work on the game, introducing several new playable characters such as Alfred and director Sefton Hill.
Staff Writer at CinemaBlend.
Your Daily Blend of Entertainment News
Thank you for signing up to CinemaBlend. You will receive a verification email shortly.
There was a problem. Please refresh the page and try again.