Batman: Arkham Knight's Batgirl DLC Launches On PS4 And Xbox One Today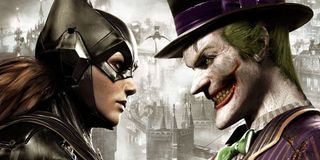 Batman: Arkham Knight players can become Barbara Gordon starting today today. Warner Bros. will be releasing the Batgirl: A Matter of Family DLC pack for select gamers.
If you own the Arkham Knight Season Pass, you can download the DLC pack today. That's only for PS4 and Xbox One gamers, though. Rocksteady announced last week that they won't be releasing the add-on for PC on time. They're currently focusing on fixing the PC version's various bugs so they can start selling it again.
Should you prefer not to spend $40 on the Season Pass, you'll have to wait longer for the Batgirl DLC. The DLC will be available for individual purchase on July 21st for Xbox One and PS4. It'll be priced at $6.99 on both platforms.
Batgirl: A Matter of Family is a prequel to the Arkham trilogy. The Joker is holding Commissioner Gordon hostage at Seagate Amusement Park. Batgirl and Robin must make their way through the booby-trapped park to rescue the Commissioner.
The WB Montreal-developed DLC sounds like it has some interesting features. For starters, playing as Batgirl is a different experience than playing as the Dark Knight. She has extra hacking abilities that can be used in puzzles and combat.
Furthermore, the developers added a new wrinkle to the Dual Play system. Now players won't be the only one with a tag team partner. Joker and Harley Quinn will team up to fight Robin and Batgirl at one point in the adventure.
Batman: Arkham Knight will receive six months of DLC in total. As part of today's announcement, Warner Bros. shed some light on the add-ons coming in August:
1989 Movie Batmobile Pack: Battle through the streets of Gotham City with this pack that includes the Batman skin and Batmobile from the 1989 Batman film, as well as two tracks inspired by the film's sequel.
The Bat-family Skins Pack: Included in this pack are six character skins based on the alternate timelines - - 1990s Catwoman, One Year Later Robin, Arkham Origins Batman, Iconic Grey & Black Batman, 1970s Batman and the Original Arkham Nightwing.
Later DLC for Arkham Knight will be more ambitious. The Season of Infamy pits Batman against a new group of supervillains. Gotham City Stories lets players become Batman's allies in a fresh set of missions. Players can also expect more race tracks and standalone challenge maps. Release dates for these other add-ons haven't been announced just yet, though.
Staff Writer at CinemaBlend.
Your Daily Blend of Entertainment News
Thank you for signing up to CinemaBlend. You will receive a verification email shortly.
There was a problem. Please refresh the page and try again.