Batman: Arkham Knight PC Version Is Now A Lot Less Broken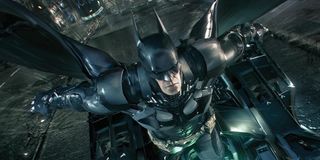 Rocksteady Studios has released a big new patch for the PC edition of Batman: Arkham Knight to fix its abundant technical issues.
The patch will automatically download once you start up Steam. Once you start up the game, you should hopefully notice the following changes:
Reduced frame rate hitches
Optimizations for system memory and VRAM usage
Improved performance on all GPUs (requires the latest drivers)
More Comprehensive In-Game Settings
Fixed low resolution texture bugs
Fixed hitches when running on mechanical hard drives (HDD)
Rocksteady previously announced that the "more comprehensive in-game settings" would finally allow players to change the framerate. It's locked at 30 by default but you can now bump it to 60 or 90 if your system can handle it. Other options included in the match include texture filtering, mouse sensitivity/smoothing and toggles for visual effects like film grain and motion blur.
They described today's update as an "interim patch." The comments on their Steam announcement bear out this point. While this patch fixed some players' problems, others find the Dark Knight's latest adventure completely unplayable. Rocksteady still has plenty of work to do on the PC version.
While the developers keep cleaning up the game, they'll also be tackling these items on their to-do list:
Adding support for SLI and Crossfire
Adding support for the latest DLC & Season Pass content
Adding support for additional updates such as Photo Mode
Continued improvements and bug fixing for a Windows 7 specific memory issue that occurs on configurations with 8GB of system RAM and some NVIDIA GPUs during extended game play
Continued improvements for Windows 10 specific issues on systems with some AMD GPUs
The PC version is also currently lacking the post-launch DLC packs available for Xbox One and PS4 such as the Batgirl prequel. Rocksteady has promised to deliver this content eventually as well as new features like Photo Mode. I imagine that won't happen until the game's much more stable, though.
Arkham Knight's PC version was such a mess at launch that publisher Warner Bros. stopped selling it. The only people playing it now are the gamers who picked it up right after its release. I'm sure more than a few took advantage of the expanded Steam refund policy to get their money back, though.
Warner Bros. hasn't indicated when they'll start selling the PC edition again. A leaked retailer email from July suggested it would be available sometime this fall. That seems like a plausible goal now that they've released today's major patch. Whether or not anyone's willing to buy the game after the months of issues is another matter, though.
Staff Writer at CinemaBlend.
Your Daily Blend of Entertainment News
Thank you for signing up to CinemaBlend. You will receive a verification email shortly.
There was a problem. Please refresh the page and try again.