Batman: Arkham Origins Mobile Game Announced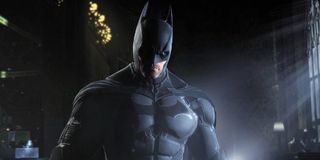 Mortal Kombat and Injustice: Gods Among Us developer NetherRealm Studios is building a mobile game inspired by Batman: Arkham Origins. The mobile game will be available for the iPad, iPhone and iPod Touch at around the same time as the PC and console versions of Arkham Origins. An Android version is planned for the holiday season as well.
The mobile Arkham Origins is a free-to-play brawler with visuals closely resembling the main versions of the game. Batman will battle assassins like Deathstroke and Bane or their hapless henchmen in one-on-one battles. Succeeding in battle will require a combination of good timing and frantic tapping. If you played Batman: Arkham City Lockdown or the iOS version of Injustice: Gods Among Us, both developed by NetherRealm, you'll have a good idea of what to expect in this game.
As the player racks up victories, they'll earn in-game rewards. For example, they can acquire new Batsuits (including Batman Beyond and Silver Age costumes) to make them more powerful in combat. Players who own the main version of Arkham Origins and register for a Warner Bros. ID account will also unlock exclusive content.
"We created an integrated gaming ecosystem between the Batman: Arkham Origins mobile and console games, which delivers rewards and unlocks that provide greater experiences for players," said Ed Boon, Creative Director at NetherRealm Studios. "The mobile game goes hand-in-hand with what is offered on the other platforms."
If you're a fan of gaming on the go, you'll have another Batman: Arkham Origins game to look forward to as well. Batman: Arkham Origins Blackgate is a 2.5D Metroidvania experience developed by Armature Studio for the 3DS and PS Vita. Blackgate features the free-flow combat and detective mode of the console/PC Origins along with a new storyline set before the events of that game. Blackgate will launch worldwide on October 25th, the same day as the other Arkham Origins games.
Image 1 of 3
Image 2 of 3
Image 3 of 3
Staff Writer at CinemaBlend.
Your Daily Blend of Entertainment News
Thank you for signing up to CinemaBlend. You will receive a verification email shortly.
There was a problem. Please refresh the page and try again.