Battlefield 4 Beta Launching Next Fall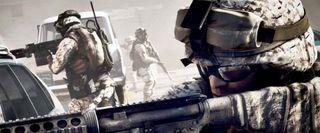 Today EA confirmed Battlefield 4 is in development and provided information on the beta. Gamers who pre-order Medal of Honor: Warfighter will be given exclusive access to the beta for BF4.
"Though Battlefield and Medal of Honor Warfighter each offer players a completely unique experience, they are united by their underlying technology base – Frostbite. These are two of the hottest shooters, coming together to deliver a one-two punch of action, intensity and shooter entertainment," said Frank Gibeau, EA labels president.
Beta access is one of several pre-order bonuses EA is offering. Select retailers will provide you with early unlocks for multiplayer. Every pre-order, regardless of location, will have access to the U.S. SEAL Team Sniper character and his deadly McMillan TAC-300 on day one.
A few words of caution are necessary. For Battlefield 3's beta, Medal of Honor owners were given a mere 48 hours of early access. Furthermore, EA offered the same access period to anyone who pre-ordered BF3 through Origin. After those two days, testing was available to all comers. It's something to keep in mind before you plunk down money for Warfighter.
Battlefield 4's beta is slated for Fall 2013. Beta tests for shooters aren't as lengthy as they are for, say, MMOs so a Fall 2013 launch for the full game is plausible. BF3's beta ran from September 29th to October 11th, and the game was released worldwide two weeks later.
EA resisted the urge to say anything more about BF4 for now. They promise additional details at a later date. Guess they don't want BF4 to overshadow Warfighter any more than it already will today.
Staff Writer at CinemaBlend.
Your Daily Blend of Entertainment News
Thank you for signing up to CinemaBlend. You will receive a verification email shortly.
There was a problem. Please refresh the page and try again.