Beyond Good And Evil 2 Will Have Massive Open-World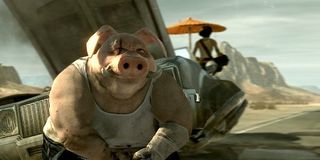 Beyond Good And Evil 2 will have a much larger world than its predecessor, creator Michel Ancel revealed in an interview. He also said that Ubisoft may re-announce the game to the world soon.
"In Beyond Good & Evil 1 at first it was a full planet, you could go to the North Pole and see the eternal day," Ancel told Eurogamer. "But we had to limit it as we were only 35 people. We couldn't fill the whole world with all the things we wanted. We were frustrated at the end of BG&E1, and when we started the sequel we started again with this idea - you're free and can investigate and travel the world as much as you want."
Ancel says that BG&E2 will allow for much more exploration. Players will be able to travel between cities and even between planets. He adds that the cities will be teeming with activity.
The sequel was first announced back in 2008. Ancel revealed at the time that the game had been in development for over a year at that point. A short trailer showed BG&E protagonist Jade running and climbing through a crowded marketplace.
New information on the game was hard to come by in subsequent years, though. Ubisoft and Ancel kept reassuring us that the game was still in development but said little else. Finally, in 2011, Ancel revealed that the game had been pushed to the next-generation of consoles. Apparently his concept for the game was too big for the current generation.
"It was not the time when we worked on it before, it was too ambitious, honestly," Ancel said in the Eurogamer interview. "And this is the game that we want to do at the right time. So now that we have the right team and the right tools, this would be a good time to do it."
Ubisoft Montpellier, the developer of the Beyond Good And Evil series, recently wrapped up work on Rayman Legends. Ancel wants to make the BG&E2 next and believes that he has enough support at Ubisoft to finally finish the game. We could hear more about the project within this year.
"We've made a lot of things already. Now we need to put them together and make that game. If there would be any communication it will be in the next year, just trying to talk about the fact we are on it. But so many people in Ubisoft want to make that game, honestly."
Staff Writer at CinemaBlend.
Your Daily Blend of Entertainment News
Thank you for signing up to CinemaBlend. You will receive a verification email shortly.
There was a problem. Please refresh the page and try again.