Beyond: Two Souls Has Leaked To Torrents For PS3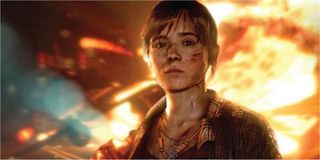 A week before launch and Quantic Dream's new supernatural adventure thriller, Beyond: Two Souls, starring Ellen Page and Willem Dafoe has been leaked to torrents... all 25 gigabytes of it.
The game went live on the torrent sites 16 hours ago as of the publishing of this article. The title's Blu-ray rip has appeared on torrents under an iMARS rip and it not only breaks down a rip of the game, but the file-structure actually contains some huge level spoilers.
Take for example, there are three different outcomes when being arrested for one sequence, and there's a flashback that's more of a flash-foward into the future, although to spare you any spoilers I'm not going to say how many years or how far into the future the flash-forward is, but it's very interesting nonetheless.
Also, the shower sequence featuring Page seems to be three times the size of the average fight sequence. So um, I guess we get to see some ample portrayals of story or character during the shower, eh? Eh? *Nudge*, *nudge*, *wink*, *wink*
Anyway, this is just further proof that the whole ordeal of piracy being a terrible, vile, villainous act that only plagues games on PC is now 100% hogwash.
While Ubisoft's claim that 95% of PC gamers are pirates was debunked a while back courtesy of Rock, Paper, Shotgun, we still see enough misinformation spread throughout the gaming community that PC doesn't get ports or support from major publishers because of piracy. However, more than 2,000 people leeching Heavy Rain in barely a day of the game being up on torrents seems to show a different side of piracy... for consoles.
Added to this, Grand Theft Auto V was torrented by more than 100,000 people in under two days when it was leaked several days before its official release.
It's funny because console piracy is a much easier (and safer) thing than PC piracy these days. With lots of PC torrents coming jam packed with viruses and malware, it's easy to completely ruin your PC by getting hold of a malicious file, as noted by The Hacker News, where a fake version of GTA V was going around that carried a nasty, nasty virus.
With Valve and Good Old Games making games available via digital distribution with low prices and easy access (viz., short installs, fast downloads, and in the case of GOG, no DRM) it's actually more of a hassle trying to pirate games on PC than it is to buy them digitally and legally. That's not to mention multiplayer support, easy access to mods via Steam's Workshop and, for those that enjoy them, achievements.
On console there is no downside to pirating. You get easy access to the ISO, you can still play online by sometimes flipping a switch and you don't have to worry about installations or malware. Funnily enough, the tides have turned and even PS3 owners are finding themselves engaged with piracy almost in a way that's more convenient than PC gamers.
Beyond: Two Souls is set for release next week on October 8th, exclusively for the PlayStation 3. If you're a lowdown, dirty pirate you can get your hands on the game right now and start enjoying Quantic Dream's latest title at the cost of only 25GB of bandwidth.
Your Daily Blend of Entertainment News
Staff Writer at CinemaBlend.