BioShock Coming To iPhone And iPad With Worse Controls And Graphics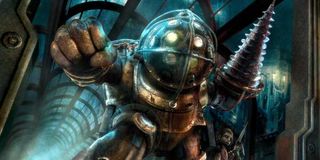 BioShock is going mobile. 2K Games revealed today that they're bringing the 2007 shooter to iPad and iPhone this summer.
Bringing the PC and console game to mobile devices is an impressive feat. It did require some sacrifices, though. The earliest previews note that the visuals are a step down from the PC/PS3/Xbox 360 version. For example, the once-impressive water and fire effects in the beginning are noticeably worse.
"It's the first hint that the iOS version of Rapture has been shrunken down to fit within Apple's app store file size limitation, and it's a nagging issue that I couldn't shake in my hands-on time," said Ben Gilbert in his preview for Engadget.
Some textures seem "tuned down," according to Eurogamer's write-up. They note that many of the details of Rapture remain intact. Still, it's a shame that some of the underwater city's wow factor has been removed. Take a look for yourself with TouchArcade's hands-on video:
To be fair, the mobile version is fighting an uphill battle. BioShock was gorgeous when it was first released but many better-looking games have followed in its wake. Our expectations for visuals are much higher now. If even the original console/PC version has lost its luster, the iOS port didn't have much of a chance at amazing us.
BioShock iOS' other compromise is its control scheme. The game utilizes virtual buttons on the side of the screen much like GTA 3's mobile port. Eurogamer and Engadget said that these buttons work pretty well, though it's awkward fighting large groups of enemies. I imagine the frantic fights against Big Daddies are a pain, too.
If you miss the precision of a control, you could always use a Bluetooth gamepad with the iOS version, though in doing so you're sacrificing the portability that made a mobile edition of BioShock so appealing in the first place.
BioShock's mobile version will only be compatible with new iOS devices. The list of supported hardware includes iPad Air, iPad Mini 2, iPad 4, iPhone 5S, iPhone 5C, and iPhone 5. The game won't run on older smartphones or tablets.
The cost is still a mystery, with previews simply saying it has a "premium" price. The mobile port of XCOM: Enemy Unknown, a far more recent PC/console game, costs only $10 though so that gives me hope that BioShock on iOS has a reasonable price tag. You can find the PC/console version for about $10 these days so that should keep the cost of the new port down, too.
Image 1 of 3