BioShock Infinite Collector's Editions Detailed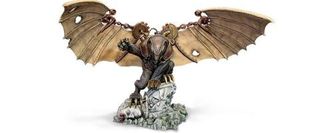 The Premium Edition of Irrational's upcoming Bioshock Infinite is pretty dang premium, sporting all sorts of sweet goodies to keep your copy of the game company. Details on the Premium Edition were dropped this morning, along with some facts about the Ultimate Songbird Edition, which includes a rad statue of one of the game's iconic characters.
Creative Director Ken Levine dropped by the PlayStation Blog this morning to share some details about a pair of limited edition versions of his upcoming game, Bioshock Infinite.
First up is the Premium Edition, which includes a 3-inch baby version keychain of the Murder of Crows vigor bottle, a 5x7-inch lithograph by Jorge Lacera, a resin-cast Handyman miniature from the upcoming Bioshock Infinite board game, a mini art book and a wide array of digital goods including exclusive in-game gear, a digital soundtrack, etc. Each item will be contained in its own separate custom packaging within the Premium Edition box, which goes for $79.99.
If you're feeling especially loaded, however, the $149.99 Ultimate Songbird Edition comes with everything listed above, plus a nine-and-a-half-inch statue of—you guessed it—Songbird.
"Both collector's editions will be available in limited quantities," Levine stressed. "So yadda yadda, sign your life away right now."
If you live in the U.S., you can get your pre-order on right this very minute. Those of you in Europe and Australia can claim your copy starting on Monday, Oct. 22. To do so, simply head on over to the Bioshock Infinite official website.
Staff Writer for CinemaBlend.
Your Daily Blend of Entertainment News
Thank you for signing up to CinemaBlend. You will receive a verification email shortly.
There was a problem. Please refresh the page and try again.