Black Mesa Screenshots Prepare For Launch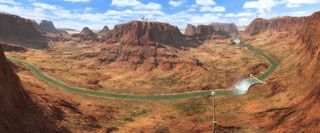 Later this week, Half-Life's fan remake Black Mesa will be released after eight years of development. The team behind the remake has sent out screenshots to give everyone a taste of what they should expect from this reincarnation.
Half-Life, originally released in 1998, is set at a top secret research facility called Black Mesa. An experiment goes horribly wrong and a portal is opened to another dimension. An alien army soon invades through this portal. Scientist Gordon Freeman must find a way to close this dimensional rift while also fending off aliens and the military squad sent to quarantine the disaster.
Black Mesa remakes HL1 using the Source engine from Half-Life 2. HL2 itself was released back in 2004 so the engine's showing a bit of age by now. Still, the Black Mesa visuals are a clear improvement over the original game.
The developers plan to remake the full campaign as well as the deathmatch modes. The game's music features a number of new tracks inspired by the original soundtrack.
The remake will be released on September 14th. This version doesn't have all of the planned content, though. It features the campaign up until the Lambda Core stage. The developers plan to release the Xen levels and deathmatch modes at a later date.
Image 1 of 7
Image 2 of 7
Image 3 of 7
Image 4 of 7
Image 5 of 7
Image 6 of 7
Image 7 of 7
Staff Writer at CinemaBlend.