Borderlands 2: Sir Hammerlock Versus the Son of Crawmerax Will Be The Last DLC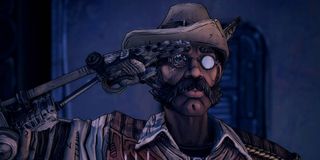 Borderlands 2 has only two DLC packs left. Today Gearbox provided details on these final add-ons, called Mad Moxxi and the Wedding Day Massacre and Sir Hammerlock Versus the Son of Crawmerax.
Mad Moxxi and the Wedding Day Massacre will launch on February 11th for $2.99. As you might expect, it has a Valentine's Day theme. Players will help Innuendo Bot 5000 and Moxxi make peace with the warring Hodunk and Zaford clans. Ellie, Moxxi's plump daughter, will make an appearance as well. Screenshots and gameplay footage from the DLC are below.
During the Valentine's Day adventure, you'll also help two robots fall in love. You have to gather ingredients for a love potion so that the duo can admit their fondness for one another.
Wedding Day Massacre, like the previous Headhunter packs, culminates in a boss fight. You can replay this fight over and over to increase the difficulty. Your reward will be a new head and skin for whatever character you used.
"This time the heads are a little more graphic," Gearbox says. "With these new heads, you'll also get an inside look at the Vault Hunters, especially Zer0… though it should be said that his new head is named 'N0t C4n0n' for a reason."
Sir Hammerlock Versus the Son of Crawmerax, the fifth and last Headhunter pack, will debut in April. The boss in that add-on is the offspring of giant crab worm from The Secret Armory of General Knoxx, the DLC pack from the first Borderlands. Crawmerax was a raid boss so you'll presumably need a few friends to stand a chance against his spawn.
Since Borderlands 2' launch 17 months ago, Gearbox has supplied a lot of DLC. In addition to the Headhunter packs, they released several story-based add-ons centered around Tiny Tina, Mr. Torgue and other colorful characters. The developer says that they're reaching the point where adding more missions and items to the game would actually be impossible due to tech limits.
The upside to Gearbox finishing Borderlands 2's DLC schedule is that they can fully focus on their next game. The studio has yet to confirm what that project is. However, Borderlands 3 seems like a good guess given the strong sales and reviews of the series to date.
Image 1 of 3
Your Daily Blend of Entertainment News
Staff Writer at CinemaBlend.