Brand New Trailer For Quantum Break Shows Off Power Of Controlling Time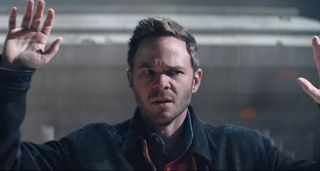 Remedy Entertainment released a new Quantum Break trailer that showed off more of some of the story and time control powers in the middle of a cemetery. You can check out the trailer below.
In the third-person action adventure game, you take control of Jack Joyce, who was part of an experiment with a supposed time-traveling device at the fictional Riverport University. It was his brother, William Joyce, who came up with the idea, and Jack's best friend, Paul Serene, who pressed for the opportunity to try it out. As you probably guessed, things with the experiment went horribly awry and Jack and Paul are both granted time-manipulation abilities. Jack can stop time while Paul can see into the future so he can adjust his decisions in the present. Unfortunately, Paul became obsessed with the power and stands as the game's leading antagonist, while Jack struggles to return the Earth's balance of time to the way it was.
What's interesting about the game is it's not just a narrative adventure through the ripples of time, but also a live-action TV series. And the decisions the player will be faced with in the game will affect both the TV series and the gameplay. So I guess Microsoft really is taking a page out of Sony's RPG book, which makes me want to play Quantum Break even more. The developer has said that if you want to get the full experience of the story in Quantum Break, you're going to have to watch the TV series in the game. An interesting display of narrative, if you ask me.
Quantum Break will only be releasing on the Xbox One and Windows 10, so that means the PS4 won't be adding it to its collection of narrative-rich games like Beyond: Two Souls and Uncharted. It will be releasing on April 5, but you can pre-order either the Xbox One game or the console bundle for some sweet deals. You can check out the official website for more information.
Your Daily Blend of Entertainment News
Thank you for signing up to CinemaBlend. You will receive a verification email shortly.
There was a problem. Please refresh the page and try again.