Buy An Xbox One, Get $75 From Microsoft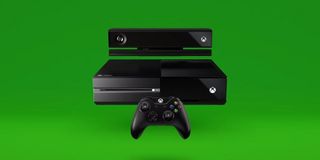 Microsoft has launched a new sales promotion for the Xbox One. Xbox 360 owners are being offered $75 to upgrade to an Xbox One.
"As our way of saying thanks we're giving YOU, one of our very best customers, an exclusive $75 Xbox promotional code with the purchase of any Xbox One or Xbox One Bundle from Microsoft Store or your local retailer," says the start-up message some Xbox 360 owners are encountering (via NeoGAF). "Your code can be used for games, add-ons, movies and more!"
$75 is a nice chunk of credit. It means your first game for your new console is free. You could also interpret the gift code as lowering the price of the Kinect-less Xbox One to $325. If you're already planning on getting an Xbox One anyway, it's a good offer.
In case you're wondering: no, you can't just order the console, get the gift code and then cancel the console order. The promotion code is sent to the message center for your new Xbox One. I suppose you could return the console after using the code, though, if you're really intent on sticking it to the Man.
The offer is only being sent out to select Xbox 360 owners. It's unclear what the criteria is but Microsoft might need to work on their filtering a bit. Players who already have an Xbox One have received it. Canadian gamers (the offer is only good in the United States) have also gotten the offer.
To be eligible for the $75 of credit, you'll have to buy an Xbox One between now and July 31st and activate it by the 31st. The code must be redeemed by 10/15/2014 and spent within 365 days of its redemption date. Only one gift code will be given out per person. The offer can only be used by the Xbox Live member who received it.
Microsoft has employed numerous promotions throughout the year to close the sales gap between the Xbox One and PS4. In January, they asked gamers to trade in their PS3 for $100 toward an Xbox One. The following month, they began selling the Xbox One with a free digital copy of Titanfall. We'll see whether these measures help Microsoft catch up to Sony. Either way, the promotions are good news for gamers hoping to upgrade to a new console for less money.
Image 1 of 2
Staff Writer at CinemaBlend.
Your Daily Blend of Entertainment News