Call Of Duty: Black Ops III Multiplayer Starter Pack Available Only On Steam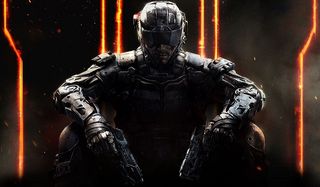 In case you haven't played a Call of Duty game in a while, Activision is offering PC gamers a limited opportunity to purchase a "Multiplayer Starter Pack" that grants access to a sampling of the game's competitive mode without having to fork over full price for the entire game.
You read that right: You can buy Call of Duty: Black Ops III's online multiplayer all by its lonesome, but only if you're playing through Steam. According to a press release sent out by Activision this morning, the Multiplayer Starter Pack is exclusive to the PC version of the game and grants access to competitive online modes for a deep discount. You can start shooting your online friends starting today for just $14.99. The offer is only good through Feb. 29, so you might want to act fast if this promotion seems appealing.
This isn't the first time we've seen a developer separate the solo and multiplayer portions of their game and sell the online goods at a discounted price. Surprisingly, it hasn't become a common practice yet. Unless we're mistaken, the most recent Killzone game was the last to offer such an option.
And honestly, we're a bit surprised this hasn't become common practice with all "full package" shooters. While some of us want to play solo, online and everything between, quite a few gamers out there are interested in online shooting and that's it. Those folks might be hesitant to fork over $60 if they only want to experience a fraction of the game, so charging only $15 for the competitive modes seems like a good way to make some new customers.
Sadly, this offer for Black Ops III is only available for PC, so don't go boot up your console expecting to find the same deal.
So what's included in the Online Starter Pack for Black Ops III? Well, you'll gain access to public ranked multiplayer matches and game features, including the weapon paint shop, gunsmith, arena, freerun, theater and the black market. Not included in this bundle is the single player campaign, the beloved zombies mode, the ability to play custom multiplayer matches or the ability to Prestige your account. You'll also be lacking the ability to use mod tools, access the unranked server, or take on Dead Ops Arcade II or Nightmare mode.
Still, that ranked multiplayer mode is pretty beefy and, again, if all you want to do is shoot other players across loads of maps, the asking price seems about right.
If, however, you get to itching for the full Black Ops III experience, you can always upgrade to the full version of the game at any time. If you do that, the price of your Starter Pack will be deducted from the game's total, so you won't be paying twice for the same content.
Interested? Then check out the Steam page for full details.
Staff Writer for CinemaBlend.
Your Daily Blend of Entertainment News
Thank you for signing up to CinemaBlend. You will receive a verification email shortly.
There was a problem. Please refresh the page and try again.