Champions Online Premium Archetypes Now Free For All Players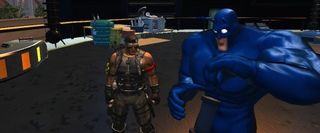 After Atari dumped Cryptic Studios earlier this year, the development studio was picked up by the unlikely free-to-play MMO publisher, Perfect World Entertainment. With Cryptic now under the wing of PWE, the Chinese-based publisher is already implementing a few changes to the way Cryptic will be running their MMOs, namely by making more of the premium content accessible to non-paying players for a brief period of time.
In a newsletter sent out today, Perfect World and Cryptic have announced that Champions Online: Free For All will have rotational periods where premium archetypes will be entirely free for Silver users, as opposed to requiring a paid purchase from the cash shop in order to use them.
As stated on the official website…
This promotional campaign will run for six weeks, and at the end of six weeks players will still have access to the character (as opposed to before where the characters would become locked until gamers re-subscribed). The only catch is that you'll have to retrain your character under an archetype you do have access to. The other cool part is that you keep all your progress, items and upgrades.
This is part of a new promotional initiative by Perfect World Entertainment to not only continue to help Cryptic's Champions Online keep up the momentum it garnered going free-to-play earlier this year, but also to retain players who do decide to take the dive in playing the superhero based MMO.
You can learn more about the new free, premium archetype promotion by visiting the Official Champions Online Website.
Your Daily Blend of Entertainment News
Staff Writer at CinemaBlend.