Chariot Begins Its Journey On PS4 Next Week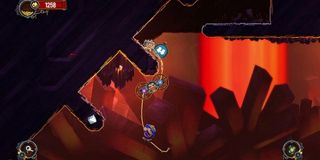 You are a princess and your father, the king, has died. Now it falls on you, as well as your helpful fiancé, to deliver the former ruler to his final resting place. If you're looking for a physics-based puzzle game with heart and humor, then you might want to check out Chariot when it finally rolls onto the PlayStation 4 next Tuesday, Sept. 30.
In Chariot, your job is to guide the titular vehicle to a faraway land where your father, the former ruler of the land, may be put to rest. That is, unfortunately for the surprisingly animated dead king, far easier said than done.
In order to get the chariot from point A to point B, you're going to need to pull it there with little more than your strength and your wits. You can bring a dashing fiancé along for the ride in cooperative play but, otherwise, the road ahead will be an unforgiving one.
And we're not just talking about steep hills and potholes here. In Chariot, your challenges are vast and varied, resulting in an epic dash through some insane levels that make the barrel scene in that last Hobbit movie look like a relaxing romp. Check it out in action to see what I mean.
Along with plenty of running, jumping and pulling the chariot along, you'll spend your time fighting off baddies and holding on for dear life as your father's chariot rolls on to victory.
It looks like an insane ride, one that the team at Frima has had cooking for quite some time. As Creative Lead and Programmer Philippe Dion mentions in the official launch announcement, Chariot made its debut during this year's E3 convention in June. Since then, it's been a downhill ride to the PS4 launch on Sept. 30.
As for the gameplay itself, it turns out that the king is something of a peacock, even in death, and he desires all sorts of gold and gems to decorate his coffin. You'll grab those goodies along the way, requiring the efforts of two players if you don't want to drive yourself made due to puzzle complexity.
"We love that local multiplayer games are making a comeback, but we wanted to stray from the competitive game model and make one that focused on cooperation," Dion said. "That being said, the game can be enjoyed and finished by playing solo, but steel yourself, because some of the challenges will require an enormous amount of creativity on your part if you decide to go it alone."
Ready to roll? Then look for Chariot on the PlayStation Network next week. Chariot is also due to hit the Xbox One, though no official date is available yet.
Staff Writer for CinemaBlend.
Your Daily Blend of Entertainment News
Thank you for signing up to CinemaBlend. You will receive a verification email shortly.
There was a problem. Please refresh the page and try again.