Chrome Xbox One Controller Now Available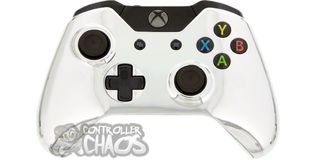 The new pure chrome Xbox One controller has launched courtesy of Controller Chaos, a company who specializes in custom console controllers and case modifications. The new chrome controller follows close on the heels of the company launching their new golden chrome controllers for the PlayStation 4 and Xbox One.
The new chrome design doesn't really do anything different for your Xbox One controller (well, unless you want it to. In which case there are button and rapid fire modifications that Controller Chaos offers for those of you looking for that kind of stuff) but it does give your Xbox One controller a very pristine, sort of high-class look. I remember once trying to buy a chrome controller for the Xbox many years ago, but the employee kept trying to talk me out of it... I ended up with a wireless micro-controller instead. It was a good controller.
Nevertheless, gamers are all about elevating their game, and the chrome controller definitely elevates the look of the Xbox One controller in a good way. I definitely like it more than the golden chrome and other mosaic designs.
If you do decide to deck out your controller with some form of rapid fire modification or boost, there's a list of games that work with the mods that you can view below.
Dang, there's a lot of Xbox 360 games on that list. I guess if the Xbox One had true backwards compatibility you wouldn't have to worry about not being able to use an Xbox One controller with Xbox 360 games. I guess Xbox fanboys will have to just keep on dreaming for that backwards compatibility.
Anyway, you can grab the pure chrome Xbox One controller from Controller Chaos for $140.00 without the rapid fire modification. Yeah, I know... "dat price".
If you're not really into PS4 or Xbox One mods, however, Controller Chaos happens to be extending their library of console offerings. By that, I mean that they're looking at the one console that's all lathered up in that sweet, sweet secret sauce. Yep, I'm talking about the Wii U.
There are some custom designs available on the site for the Wii U. Just like the one below featuring the blood splatter.
Unfortunately, the Wii U Pro Controllers don't support the rapid fire modifications like the PS4 and Xbox One controllers. You can gain access to some custom LED options for the controller but that's about it.
In addition to this, these aren't just skins. The controllers are hydro-dipped so the cases are embedded with the designs. This means they won't scratch, peel or fade off. You could still technically buy additional controller skins if you ever wanted to change it up, but... yeah... hydro-dipped.
Anyway, you can check out the additional offerings for the Wii U on the Controller Chaos website. It should be noted that if you have a steady hand and some mean painting skills, it's also possible to make your own custom skins using templates available on eBay. Those are for you real hardcore enthusiasts out there.
Your Daily Blend of Entertainment News
Staff Writer at CinemaBlend.