These Are The Coolest Amiibo You Can Purchase Right Now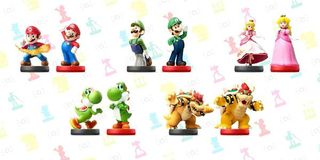 With all the hubbub surrounding amiibo at the moment, you're probably scrambling to figure out which ones are worth seeking out and which ones to leave at the store -- the ones that are actually there, anyway. Super Mario Maker will be compatible with over 50 amiibo figures and there's a whole new bushel of them on the way.
If you had to choose only a handful of these (often expensive) little guys, which ones should you go for? Which ones look the coolest? All of them, that's a trick question. If you need help making some tough decisions, here are some of the best-looking and most interesting figures, just in case you've got limited shelf space or a limited budget. You're not alone here at amiibo Anonymous.
Yoshi's Woolly World amiibo
Even though Yoshi's Woolly World isn't out in the West just yet (pretty bizarrely, I might add) that hasn't stopped all of us from fawning over how adorable the pink, green, and blue Yoshi amiibo are. They're even made out of yarn! They have no hard plastic base at the bottom like the rest of the figures out there, so they're easier to snuggle with. Or, you know, display with your other figures. I totally didn't say snuggle. These may just be some of the most unique amiibo you can collect, so be ready for them to come out where you can preorder them, or grow a small cache of money so you can snipe them from eBay. These are some of the figures you're definitely not going to want to sleep on.
Super Mario 30th Anniversary amiibo
So far, this is the only 8-bit styled amiibo out there, and it's larger than life when compared to other figures. Its blocky look is absolutely charming, especially since you can get classic and regular colors, and it makes for an excellent conversation piece. Plus, just look at it. You need one of these little guys sitting on your desk. They're going to go fast when and if you can find them anywhere, so if you didn't already preorder, you're going to need to act with the swiftness of a million Mario Karts if you want to claim one in the future for this Super Mario amiibo. Trust me on that. You may never see another figure in the collection like this.
Palutena amiibo
This Amazon exclusive was difficult to come by, but she's an absolute beauty. By far one of the most detailed figures, she exudes elegance and a regal presence, especially if you've taken her out of the packaging. There's a heft to the figure that I appreciate, especially since she's a lesser-known character that isn't a flagship Nintendo personality. From her coloring to the tinier details on her person, this Kid Icarus fan favorite is a gorgeous buy if you can track one down. Buy two, because you're going to want to touch said tiny details mentioned earlier in this blurb.
Mario Party series Bowser amiibo
Most people aren't huge fans of Bowser, but this special figure from the Mario Party line of amiibo may well change your mind. It's a massive figure, much bigger than his other Mario Party brethren like Mario, Luigi, Peach, and Toad. Taking Bowser out of the packaging is an undertaking. This is a hefty figure. You'll want to pick it up and put it back down again, and you probably will during the course of Mario Party 10 games anyway, but it's such a satisfying amiibo that I'd absolutely suggest picking one up, at the very least for an affordable, detailed, and sturdy Bowser figure. If that's your thing, anyway.
Ness amiibo
For the longest time, there simply weren't any good licensed EarthBound figures for diehard fans to pick up. The official Ness amiibo changed all that, offering an affordable way for fans to pick up a good-looking Ness figure to either display or use in some of their favorite games. Though unfortunately everyone wants a piece of Ness, he's still available at GameStop here and there. He's definitely one amiibo that you need to pick up if you happen to see here or there, especially given his vibrant colors and infectiously fun demeanor and pose. Plus, the Mother series is just fantastic. If you haven't ever played one, go remedy that right now.
Your Daily Blend of Entertainment News
Thank you for signing up to CinemaBlend. You will receive a verification email shortly.
There was a problem. Please refresh the page and try again.