Dark Souls Artorias Of The Abyss DLC Release Date Announced For PS3 And Xbox 360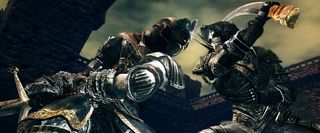 Soon console gamers will have a whole lot of new Dark Souls content at their disposal. Namco Bandai has announced that the "Artorias of the Abyss" DLC will be available in the last week of October for the PS3 and Xbox 360.
Artorias adds a new adventure set in the world of Lordran. A dark force is spreading from the forests of Oolacile and threatens the entire kingdom. The player is the only one who can vanquish it. Expect to encounter new enemies, weapons, and armor in your journey. This new adventure is said to be 10 hours long.
The $15 DLC also contains new content for PvP-minded gamers. A new match-making system will allow you to jump into 1v1, 2v2, and four-player free-for-all battles with a minimum of effort. It would've been a perfect feature for the game at launch but oh well.
Artorias of the Abyss will be available on Xbox 360 and PS3 in North America on October 23rd. Players in Australasia and Europe will have to wait until the following day.
This new content was previously exclusive to the Dark Souls: Prepare to Die Edition. The Prepare to Die Edition, a fancy way of saying "PC version," was released in August.
Your Daily Blend of Entertainment News
Staff Writer at CinemaBlend.