Dark Souls GFWL-To-Steamworks Patch Delayed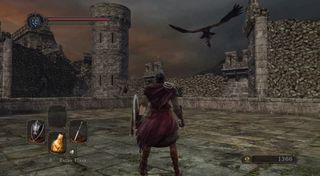 Hoping to get in on the Dark Souls goodness this holiday season on Steam? Well, whether you're a long time follower or a newfound fan, you'll have to wait a bit longer if you want to play Dark Souls on PC without having to go through the hassle of dealing with Games For Windows Live.
Gamespot spotted the update over on the Steam community page where the official announcement about Dark Souls making the leap over to Steamworks and away from Games For Windows Live has been updated to include where From Software stands on the migration process.
The update states that...
For those that don't remember, back in October From Software had announced that they would be moving from Games For Windows Live to Valve's Steamworks. The announcement came on their Facebook page to much delight from their PC fanbase.
The reason a lot of people have been moving off Games For Windows Live is due to the lacking support and the previous longstanding rumor that Microsoft would be shutting down the service during last summer. Before the shutdown date rolled around, Microsoft was asked about the status of Games For Windows Live and they responded saying that they would not be abandoning support for the service. However, the company was mum on any further word regarding fixing some of the issues with GFWL, such as games not properly saving, other titles not being able to access the DLC, and some games failing to validate through the service.
It's due to a lot of the unresolved user issues that many gamers began contacting publishers and develoeprs about moving their games off Games For Windows Live and onto Steamworks, which is supported in a far more stable and reliable way by Valve. It's also free, so the cost of transition would only be in the manpower to move the game from Microsoft's service to Valve's service.
Other companies have also been migrating off of Microsoft's service, such as Capcom, Deep Silver and Bethesda. Some people might be questioning why developers are still moving games off GFWL even though Microsoft said they weren't shutting it down, but due to the instability of the service and the fact that sometimes keys fail to activate, it only makes sense – for the sake of being pro-consumer – that companies put their focus on services that do work and are reliable.
It's nice to see From Software taking the time to go the extra step and offer a compatible, working version of Dark Souls before throwing it out there to fans. While the delay has been waylaid from November into December, hopefully the wait will be worth it.
Staff Writer at CinemaBlend.
Your Daily Blend of Entertainment News
Thank you for signing up to CinemaBlend. You will receive a verification email shortly.
There was a problem. Please refresh the page and try again.