DayZ On SteamOS? Dean 'Rocket' Hall Hopes So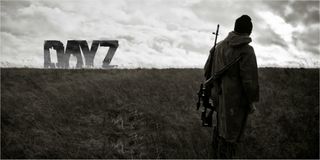 One of the big questions about the upcoming Steam Machines is what sort of software will they get to help set them apart from standard, end-user PCs? Well, some people believe that Valve will unleash exclusive SteamOS software, others are simply hoping that every big game they enjoy in Windows will be available via SteamOS (natively).
One game that could easily help saturate the growth of Valve's operating system is DayZ. During the AMA yesterday on Reddit, users asked lead designer of DayZ, Dean "Rocket" Hall, if the popular (and fast-selling) zombie survival game would make the jump to SteamOS.
Hall didn't waste anytime rolling out the possibility, but not before explaining the impetus for the jump by trashing Windows 8...
The natural follow-up from readers was that the Steam Machines offered a great opportunity to rally the forces of the great PC Master Race and the Lords of Linux, and that getting a version of DayZ on SteamOS to help bolster the adoption rate of the new operating system. They suggested porting the game over and contacting a few other developers to help do so, to which Hall replied...
That would be righteously awesome.
While Valve noted that they won't do SteamOS exclusives, as reported by Destructoid, it doesn't mean that the OS doesn't need huge, recognizable titles to get off the ground, because it really does.
DayZ making the jump to SteamOS could be a King on the table for Valve, as the zombie-survival simulator has already sold more than a million copies and has been the top-selling game on Steam for more than a month. Getting a game like that moved over to SteamOS is key for the growth of the operating system's adoption rate.
Added to that, it wouldn't hurt getting 4Channers all-in on Linux, too. Notably, Dean "Rocket" Hall attributes the early success of DayZ to the infectiously malcontent community of virgins, as someone asked how the "snowball of popularity" started for DayZ and Hall responded with...
The abhorred wasteland of the internet wins again.
If Hall can strike gold once more with the wide expanse of the core internet gaming community with the SteamOS version of DayZ, both Bohemia Interactive and Valve will win big if they can get even a quarter of the DayZ audience moved over to their free operating system.
(Main image courtesy of DayzBlog)
Staff Writer at CinemaBlend.
Your Daily Blend of Entertainment News
Thank you for signing up to CinemaBlend. You will receive a verification email shortly.
There was a problem. Please refresh the page and try again.