Deus Ex: Human Revolution ENB Mod Enhances Graphics, Removes Piss Filter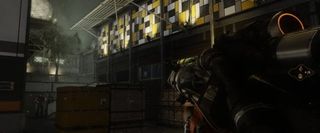 Vorontsov Boris is a name most gamers aren't familiarized with, but his work is starting to make waves during the later half of this generation of gaming. Boris is the developer of the ever-so-popular ENB series visual enhancement mods for a number of games, most notably getting Grand Theft Auto IV to headline many websites after a modded version of Boris' mod hit the net called the iCEnhancer, which literally made GTA IV look like real life (and that's no joke).
Today, Vorontsov released a new ENB visual mod for Deus Ex: Human Revolution on PC and it removes what many gamers are now calling the "piss colored" visual filter and adds enhanced visual effects and shaders.
PC Gamer put up some new screenshot comparisons to give gamers an idea of what sort of visual change the mod makes to the game. It seems to be that there are some gamers who like the enhancements while other gamers feel it takes away from the atmospheric elements Eidos infused into Deus Ex: Human Revolution with the "piss colored" visual filter. It is true that the black and gold aesthetic is actually one of the game's strong selling points, especially in the way that the colors were used during the promotional trailers and media spots.
Nevertheless, if you're curious how the game would look through normal, non-augmented eyes, you can download Boris' new ENB mod from the Official ENB Series Website, for free. Oh, and the mod only works on NVidia cards for now and you'll need a fairly up-to-date rig to handle all the visual enhancements (i.e., Nvidia GTX 260 or higher, 4GB of RAM, dual core 2ghz or higher).
Staff Writer at CinemaBlend.
Your Daily Blend of Entertainment News
Thank you for signing up to CinemaBlend. You will receive a verification email shortly.
There was a problem. Please refresh the page and try again.