Diablo 3 Release Date Announced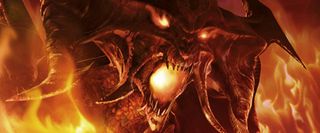 Blizzard Entertainment finally announced the release date for Diablo 3 today. The long-awaited action RPG will be available in most countries throughout the world on May 15th.
The May 15th release date applies to the United States, Canada, Europe, South Korea, Southeast Asia, Australia, New Zealand, and the regions of Taiwan, Hong Kong, and Macau. Gamers in Mexico, Argentina, Chile and Brazil will be able to buy the game digitally on that day as well. The previously mentioned Latin American countries will be able to pick up boxed copies on June 7th. The digital and boxed copies will be on sale in Russia on the same date.
D3 will be available in Standard and Collector's Editions. The Collector's Edition, exclusive to retail stores, is priced at $99.99. It includes an art book, a USB drive with a copy of Diablo II and its expansion, and more.
If you signed up for an annual subscription to World of Warcraft, you'll get a free digital copy of D3 on launch. Blizzard is also throwing in an exclusive WoW in-game mount and access to that game's Mists of Pandaria beta. Blizzard revealed today that this offer won't be available past May 1st.
Blizzard previously said that D3 would be released between April and June. It seems they picked the exact middle day in that range. I figured that "between April and June" meant June 30th but hey, I'm happy to be surprised.
D3 has been in beta since last fall. We had a chance to try it out and you can read our thoughts here.
Staff Writer at CinemaBlend.
Your Daily Blend of Entertainment News
Thank you for signing up to CinemaBlend. You will receive a verification email shortly.
There was a problem. Please refresh the page and try again.