Diablo 3 Will Sell 3.5 Million This Year, Analyst Says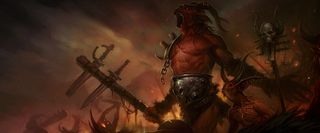 Diablo 3 has received a lot of hype over the past few years. This game won't be some mere cult classic, though, according to Stern Agee analyst Arvind Bhatia. Bhatia believes that the action RPG will sell several million copies this year.
D3, according to the analyst, has the "potential to sell more than 4 million units life-time." He believes that 3.5 million units will be sold within the year. Bhatia notes that Diablo 2 had similar sales, hitting the 4 million mark within 14 months of launch.
This seems like a very conservative estimate. Bhatia's basically arguing here that the market for Diablo hasn't grown much in the past 12 years. He seems to think that the long delay between D2 and D3 actually hurt the latter game's prospects.
An analyst for Cowen and Company gave a more optimistic assessment of the game back in March. He predicted that D3 would move five million copies in this year alone. The Cowen and Company analyst also made an important point: over a million people have already bought the game through the World of Warcraft Annual Pass.
Blizzard seems to think they've got a blockbuster on their hands, too. They've been advertising D3 like crazy on the web and on television. They're planning to launch the game simultaneously in multiple countries on May 15th, with several midnight events to mark the occasion.
I lean toward the 5 million copies prediction, myself. Even if there haven't been any Diablo games released in over a decade, the action RPG genre has only grown in the mean time. Even if a Torchlight or Mass Effect fan has never played Diablo before, I'd imagine they'll still check out D3.
Staff Writer at CinemaBlend.
Your Daily Blend of Entertainment News
Thank you for signing up to CinemaBlend. You will receive a verification email shortly.
There was a problem. Please refresh the page and try again.