DmC: Devil May Cry And Don't Starve On PS Plus Today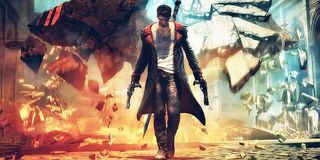 The first big PlayStation Plus update of 2014 is a nice one that, while light on the whole discounts side of things, makes up for it with a brand new title for the Instant Game Collection on the PlayStation 3, DmC: Devil May Cry, and the PlayStation 4, Don't Starve.
Just like the regular weekly PlayStation Network updates, the online market has remained relatively quiet for PlayStation Plus these past couple of weeks as everyone enjoyed a holiday break. Now that the New Year has rolled around, it's time to get back to business as usual with the digital gaming goodies.
As announced a couple of weeks ago, both Don't Starve and DmC are arriving on PlayStation Plus this month and, as it turns out, they're releasing to the IGC on the very same day. Sony Sr. Community Specialist Kristine Steimer describes Don't Starve as "deceptively cute," warning players not to be fooled by its cartoon and somewhat cutesy aesthetics, as it's very much a "hardcore survival simulator."
We revealed yesterday that Don't Starve would finally be arriving on the PlayStation 4 as part of the regular weekly update this afternoon and, as it turns out, its first week on the market will also mark the launch of its stay on the PlayStation Plus service. Not a bad deal, getting a brand new game for free and all.
For those gaming on the PlayStation 3 and not so head-over-heels in love with the original version of Dante to try something new, Team Ninja's take on the smart-mouthed demon hunter will be available as part of the IGC for the PS3 starting this afternoon, too.
"DmC: Devil May Cry refreshes the story of Dante and gives him a bit of a makeover, but the combat is still as action-packed as you'd expect from a DMC title," Steimer said. "Dante still packs his pistols Ebony and Ivory, as well as his blade, Rebellion, and you'll have to switch back and forth from Angel and Demon mode in order to rack up your massive combos."
Yep. Still sounds like the same old DMC to me, just with some new twists that might actually breath a bit of new life into the decade-old formula.
As for other Plus offerings this week, subscribers can expect a couple of discounts. The PSP soccer title, Streetkix: Freestyle will be arriving this week and, when it does, the $11.99 price tag will be marked down to $10.79 for Plus subscribers. Not a huge discount but, hey, savings are savings.
For those of you who like to dip into PlayStation Home, there's also a Home Tycoon gift package for Plus members, giving everyone a boost in the 3D city-building game available through Sony's virtual life simulator. As a special gift, Plus subscribers will receive 120 Gold Coins to help their city on its way following completion of the tutorial.
Staff Writer for CinemaBlend.
Your Daily Blend of Entertainment News
Thank you for signing up to CinemaBlend. You will receive a verification email shortly.
There was a problem. Please refresh the page and try again.