Dragon Age: Inquisition Classes, Specializations Revealed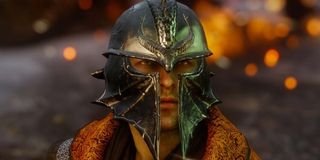 BioWare has updated the website for Dragon Age: Inquisition with details on the character classes. Players will have three base classes to choose from as well as several specializations.
The three classes from Dragon Age: Origins and Dragon Age 2 make a return: warrior, mage and rogue. If you've played any medieval fantasy games before, you know what each choice entails. The warrior's a front-line fighter capable of withstanding great damage and keeping enemies occupied to keep allies safe. The rogue is an agile, stealthy hero equally skilled at hurting enemies up close or from afar. Mages wield the energy of the Fade to heal allies or hurt enemies.
"Each comes with a unique set of abilities, weaponry, special moves, and even class-reactive story content," says the Inquisition website. "Further, as your Inquisitor grows in power, you will be able to select a specialization. These advanced classes introduce entirely new abilities to your combat repertoire."
The website detailed one specialization from each class today. Warriors can become Champions, or classic "tanks" that focus on resisting damage and protecting party members. The first Mage specialization is Knight Enchanter, which sounds like what other role-playing games call "fighter-mages." Knight Enchanters shroud themselves in defensive magic and charge their weapons with energy so they can fight on the front-line. Rogues can morph into Artificers, technologically gifted tricksters who rely on traps and other gadgets to survive.
BioWare will release details on the two other specializations for each class soon. However, gamers have noticed from the site's code that the other specializations will have the following names:
Warrior
Mage
Rogue
A few of those specializations appeared in previous Dragon Age games as well. The Templar can resist or dispel magic. Reavers can feed on the suffering of opponents to boost their power or heal themselves. Assassins are masters of the cheap shot, striking from the shadows with poisons.
We can make some educated guesses about what the other three can do based on their names and the specialties from past games. Tempests are probably sword-fighters akin to DA:O's and DA2's Duelists. Necromancers could be the equivalent of Blood Mages, sacrificing their health or that of their allies to fuel their spells. Rift Mages might be tapping into the Fade to summon demons to do their bidding. Those guesses might be embarrassingly wrong but we'll see.
Inquisition will be released worldwide on Xbox One, Xbox 360, PS4, PS3, and PC on October 7th.
Image 1 of 3
Your Daily Blend of Entertainment News
Staff Writer at CinemaBlend.