Dynasty Warriors 8: Empires Coming To PS3, PS4, Skips The Xbox One Entirely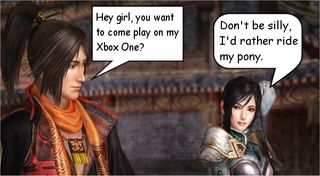 A lot of gamers got up in arms about Dinosaurum Games making it known that they were pledging allegiance to Sony and the PlayStation 4 with their Heavy Rain-esque, adventure mystery game called Without Memory.
Feces hung from the ceiling and smeared along the walls in the room from which the news originated, as fanboys flung more crap at each other than monkeys in a zoo. However, all the contention aroused from the exclusivity debate between PlayStation and Xbox games isn't just about new IP and so-called "no name" indie developers picking and choosing sides. The reality is that things are continuing to get serious in the eighth-gen console war when it comes to new and established brands becoming platform (or brand) exclusives, and a lot of times it isn't in favor of the Xbox One.
In this case, long-running multiplatform series Dynasty Warriors will no longer maintain multiplatform parity as Tecmo Koei and developer Omega Force will be focusing their efforts solely on a PlayStation-only release for the upcoming Dynasty Warriors 8: Empires.
The news comes courtesy of a big reveal in Famitsu, as reported by Gematsu, where it was detailed that following the release of Dynasty Warriors 8: Xtreme Legends for the PlayStation 3, PlayStation 4 and PC, the new Dynasty Warriors: 8: Empires will be released on both the PlayStation 3 and PlayStation 4 this fall in North America, presumably with a Steam release to follow thereafter.
The new Empires release will contain brand new commanders to play, as well as new customization features for flags, soldiers and horses, and even the option to have your characters get married and have kids. It's just like The Sims but now with a thousand percent more dead bodies in your front lawn.
Tecmo Koei is planning on releasing two playable demos before the game's fall release, Gematsu notes that they're "edit" and "cooperative" demos, which means that you're likely to get some hands-on time with the new features and modes in order to help you with your buying decision when the release day rolls around.
As for the Xbox brand being absent... this is and is not surprising. Take note that Dynasty Warriors 8 did release for the Xbox 360 along with the PS3 last July.
While Tecmo Koei obviously favors the Sony brand due to the long and storied history between the two companies, dating back since the days of the PlayStation One, I'm quite positive many gamers at least expected some sort of early support for the software-starved Xbox One during its infant years on the market. But just like 79% of gamers who have no interest in buying a $399 Xbox One when it launches next week, Tecmo Koei is showing little to no interest in supporting The Bone; they've effectively said... "Nope".
Perhaps with a strong showing at E3 and maybe getting those 48 registered Japanese developers to throw some love the way of the Xbox brand when The One launches in Japan this September, Microsoft could win back over the favor, love, adoration and – most importantly – software support from mid-tier publishers. We all know they could definitely use it, especially considering that the software offerings right now are about as barren as the Gobi desert.
Staff Writer at CinemaBlend.
Your Daily Blend of Entertainment News
Thank you for signing up to CinemaBlend. You will receive a verification email shortly.
There was a problem. Please refresh the page and try again.