Will Sims 4 Be Mac Compatible?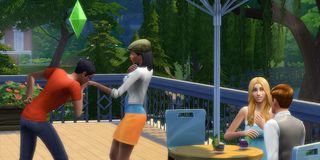 The Sims 4 will be debuting this year on the PC. It's not clear when the game will be hitting the Mac, though. EA's being tight-lipped about their plans for other platforms.
The company announced The Sims 4 on PC and Mac in May 2013. However, they're only accepting pre-orders for the PC version on Origin. Third-party retailers like Best Buy (opens in new tab), Amazon (opens in new tab) and Gamestop (opens in new tab) likewise make no mention of the game coming to Mac.
"We're excited for The Sims 4 too and are focused [on] PC at this time. We have nothing to say regarding other platforms." an EA spokesperson told Gaming Blend when reached for comment.
There's little reason to doubt that Sims 4 is coming to Mac. Every game in the main series, starting with the original Sims in 2000, has been released on both PC and Mac. There's usually between a delay between the PC and Mac versions, though The Sims 3 hit both platforms on the same day in 2009.
The more likely scenario is that The Sims 4's not going to be a simultaneous PC and Mac launch. EA delayed the game from early 2014 to the end of the year. They may have decided to focus just on the PC edition to ensure that they hit that new release window.
It's unclear whether EA is handling the OS X version themselves or passing it off to another studio. Aspyr Media ported The Sims 2 and its expansions to the Mac. If EA has farmed out the port duties to another studio, that would explain why they're reluctant to provide a release window. They might not feel comfortable giving a timetable for a version they're not directly developing.
The Sims 4 is expected in either the third or fourth quarter of 2014. Though EA hasn't provided a specific date yet, they have been sharing new videos left and right. In recent weeks they've released Build Mode and Create-a-Sim previews.
This poll is no longer available.
Image 1 of 4
Your Daily Blend of Entertainment News