E3 2014: Mortal Kombat X PS4 Videos Demo New Characters, Finishing Moves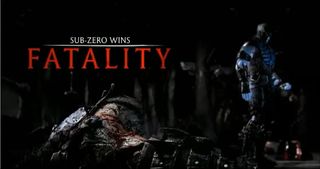 Mortal Kombat X (and not Mortal Kombat 10) is coming and it's bringing a fury of awesomeness with it. Before we get to the game's inevitable 2015 release the boys and girls at Netherrealm Studios wanted gamers to scope out a look at the game at this year's big E3 event.
During the PlayStation conference at this year's E3 we got some exclusive first-hand footage of the game in action running on the PS4 and this included a look at Sub-Zero, a new character (or characters, they're a tandem character) called Ferra/Torr as well as some of the game's brand new X-ray attacks and finishing moves.
Just about everyone who saw the game in action was impressed at how fluid and smooth the gameplay was, as well as the liquid-like transitions between animations and combos that gave the game a distinct Mortal Kombat feel while also aiming to usher in a new era of new-school fighting mechanics, graphics and characters.
Outside of what was showcased during Sony's conference there were bits of demonstration gameplay on display on the E3 show floor, where the team at Netherrealm Studios unleashed a look at some of the brand new characters, including D'Vorah, an insect-spider type character who likes to stab, impale and inflict massive damage with razor sharp spikes, and Cassie Cage, the daughter of Johnny Cage and Sonya Blade. She's apparently a special ops type character with the ego of Cage and a mixture of abilities that appear to combine Sonya, Johnny Cage and Stryker together.
One of my favorite new characters is Kotal Kahn, which seems to appropriately rhyme with "Total Pwn". The character is studiously primal and has a refined edge of danger about him. He reminds me a lot of Ogre from Tekken fused with Shao Kahn. He seems like he could be a pretty cool character, especially with his little taunts and stuff.
In addition to showcasing some of the new characters, a brief supercut of the new finishing moves from the upcoming Mortal Kombat X was compiled, showing off all the brutal fatalities that will be present in the upcoming title. You can check it out below.
Brutal.
Mortal Kombat X will be running on a modified version of the Unreal Engine 3 and will be targeting 1080p and 60fps for the Xbox One and PS4.
The only drawback is that this is a cross-generational game, which means we'll still have to deal with same issues that plagued games like Watch Dogs and, of course, the upcoming GTA V.
Still, I look forward to seeing some of the other character reveals. One of our readers pointed out that one of the characters appears to be a fedora-wearing chap with a trench coat, so I'm at least a little bit fancied at seeing what comes of that reveal.
Your Daily Blend of Entertainment News
Staff Writer at CinemaBlend.