EA's Humble Origin Bundle Adds Red Alert 3 Uprising, Populous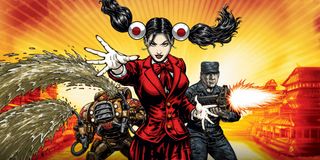 EA's massive Humble Origin Bundle just got a bit bigger. Today, the publisher added Command and Conquer: Red Alert 3 - Uprising to the charity package along with Populous.
Uprising is the standalone, single-player expansion to real-time strategy Red Alert 3. Its four campaigns take place in the aftermath of the war between the Allies, the Soviet Union and the Empire of the Rising Sun. Each faction gets its own story-driven campaign as well as new units. The fourth campaign stars the Imperial commando Yuriko Omega and is more action RPG than RTS.
Populous, meanwhile, is a classic god game from 1989. Players must use divine powers to shape the landscape and help their followers prosper. They'll beat each level once their followers are strong enough to wipe out an opposing deity's followers. In addition to being a great game, Populous has the distinction of being maybe the only Peter Molyneux title that he didn't over-hype.
In order to get both titles, you need to pay more than the average Humble Origin Bundle buyer. The average is currently set at $4.83. You'll get Origin and Steam keys for Uprising, and an Origin key for Populous.
The Humble Origin Bundle launched last week with Dead Space, Dead Space 3, Burnout Paradise: The Ultimate Box, Crysis 2 Maximum Edition, Mirror's Edge and Medal of Honor. You'll unlock all of these games by paying $1 or more. EA is also throwing in Battlefield 3 and The Sims 3 to whoever beats the average. The only Origin-only titles on that list are Dead Space 3 and Battlefield 3.
Right now, you're either fighting - or have succumbed to - the urge to post "fuck EA" in the comments section. While I understand some of you are going to hate the company no matter what they do, it's worth noting that the Humble Origin Bundle's proceeds are going to charity. You can split your purchase money between the Human Rights Campaign, watsi, San Francisco AIDS Foundation, American Red Cross, GamesAid and American Cancer Society. To date, the Humble Origin Bundle has raised over $8.2 million.
You can purchase the Humble Origin Bundle here (opens in new tab). It'll only be available for 6 more days, though.
Staff Writer at CinemaBlend.
Your Daily Blend of Entertainment News
Thank you for signing up to CinemaBlend. You will receive a verification email shortly.
There was a problem. Please refresh the page and try again.