EA Montreal Receives Layoffs After EA Denied Layoff Rumors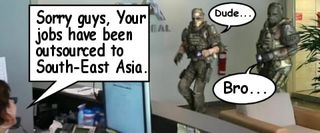 A new confirmation from EA has surfaced indicating that a "small" number of layoffs have been put into effect. However, EA has clarified that the number was not as expansive as the 500 that were originally rumored. The EA Montreal branch, the same minds behind Army of Two, SSX and Need for Speed, to name a few, will be on the receiving end of the layoffs.
The original report from Startup Grind indicated that EA was doing some internal shifting hinted at publishing giant and making the cuts before the month was out, and Startup Grind was right.
According to GameIndustry.biz International, they received word from Electronic Arts corporate communications that...
This basically reinforces what EA said before, that they would be hiring more than firing by the end of the year.
No official number was set on that "small" number of layoffs, so there's no way to verify just how many employees got the boot. However it does kind of fly in the face of EA vehemently denying the rumors saying that..."There are no lay-offs as such, we always have projects growing and morphing" which they spouted to a number of sources last week.
However, they had to deny the layoff rumors for the sake of protecting resources, and ensuring that the public perception of the publishing giant wouldn't be tarnished any further than it already is, which in turn could affect the company's already low stock price, which has steadily declined by a few points since the Mass Effect 3 fiasco started in early March.
Supposedly, EA is also looking into further firm acquisitions, which the gaming community at large is fearful of after the alleged viral marketer hinted at EA looking into a big buyout this year following their acquisition of PopCap. Gamers are also afraid because they don't want to see any of their favorite gaming studios get sucked up into the corporate void like so many other fan-favorite companies. We'll keep you posted on any further advancements with the story.
Your Daily Blend of Entertainment News
Staff Writer at CinemaBlend.