EA Sports UFC Video Details How To Grapple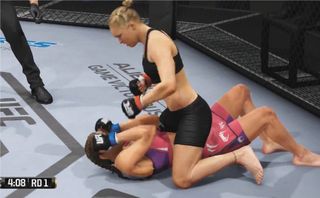 EA has slowly been rolling out information on the upcoming EA Sports UFC. The MMA fighting game is starting to shape up to be something that could be a nice tide-over throughout the slow summer software drought, especially for the new-gen consoles.
Before getting into the whole grappling spiel, there's something definitely worth discussing: the reaction animations.
Fighting games are only as immersive as the characters' reactions, and EA Sports UFC puts an impeccable amount of focus on the strikes and the way the fighters react to those strikes.
Also, there are a lot of small nuances in the character model animations, where you see the muscular reactions – that kind of detail just really screams realism and helps propel the game above the standard fighting game outing that we've been fed over the past couple of years.
In fact, if you managed to grab a snapshot of the game in motion, you could almost mistaken it for being a real-life brawl. Check out the image below.
Anyway, this video that features UFC's golden girl Ronda Rousey taking on Misha Tate, focuses mostly on the ground grapple system. You can see how the system is actually very similar the very first UFC game on the PlayStation One, where players will have to strategically move the analogs to outwit their opponent in a sort of game of sticks.
I don't feel one way or another about it until I get my hands on the game and play it for myself.
It could work well or it could be like crap. If it turns out similar to Smackdown Vs Raw 2011 where you had to move the analog and find the rumble to synch or break the hold, then it might turn out all right. It's already similar in EA Sports UFC, except it has a giant graphical visual cue on screen.
One thing I would like to see is the standup grapple; because yes, you can still do grapple moves from the standing position.
We've also yet to see how well throws work. Over on Good Game Bro they have an extensive preview of the game's early career mode, but unfortunately we don't find out if a practice like Judo can be used to completely discombobulate and incapacitate an opponent like in the early UFC tournaments.
Hopefully we'll get to see how some of the other practices play and interact with each other in future video releases. I would also love to see how a full-on boxer can operate in EA Sports UFC, because if you could keep and maintain your footing, how devastating can you be as a boxer? I would love to try that out.
You can look for EA Sports UFC to launch on the Xbox One and the PlayStation in mid-June next month. For more info, feel free to pay a visit to the official website.
Your Daily Blend of Entertainment News
Staff Writer at CinemaBlend.