EVE Online's Citadel Expansion Pack Announced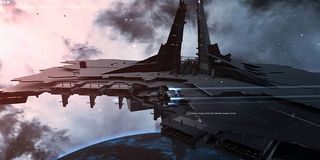 EVE Online is already a massive game, but its universe is set to expand even further next year with the EVE Online: Citadel expansion arriving in Spring 2016. According to all of the latest details coming out of EVE Vegas 2015, players should expect lots of big changes and new features.
The folks over at Massively attended this year's big EVE show and have reported back with oodles of new details concerning the upcoming Citadel expansion. If you enjoy the game, their coverage is absolutely worth giving a full gander.
Along with rebooting capital ships and beefing up citadel construction, EVE Online should run even smoother in the future with the relocation and some adjustments being made to the server.
Given that the big expansion is named after these massive structures, you better believe that citadels are going to become an even bigger part of the action, giving players new ways to experience EVE Online and craft a space empire of their own. Here's a gander at a medium-siced citadel being deployed. With the new camera options being plugged into the game with this latest expansion, you should be able to take some sweet in-game photos of your own citadels to share online.
Ships will be able to dock with these citadels to do business as if they were one of the in-game stations. In case of threats, they'll also be equipped with weaponry to fight off hostile intruders. That gear will include torpedoes, missiles and even flak cannons to throw off enemy artillery.
The team behind EVE Online is obviously very proud of the big new features, but they're not overlooking the small touches, either. EVE will look better than ever when Citadel launches, with effects like ship shields getting a visual boost.
Again, this is barely scratching the surface of what was revealed during the EVE Vegas 2015 event and, since Citadel doesn't arrive until next spring, we imagine we'll be hearing even more details between now and the official launch. We'd be interested to know which new feature (or features) our readers are most excited about. Any big EVE players in the audience? What is Citadel bringing to the universe that you can't wait to dig into?
Staff Writer for CinemaBlend.
Your Daily Blend of Entertainment News
Thank you for signing up to CinemaBlend. You will receive a verification email shortly.
There was a problem. Please refresh the page and try again.