Tekken 7 Designer Defends Lucky Chloe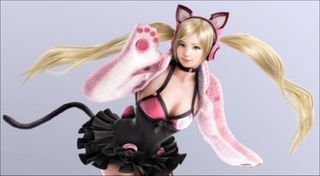 One of the new characters introduced for Tekken 7 may not see the light of day in the North American release of the game. Why? Because a group of individuals have been complaining about her when she was unveiled in a recent video.
Eurogamer is reporting that the producer for Tekken 7, Katsuhiro Harada, has responded to some of the feedback from gamers who felt that Lucky Chloe was a rehashed Japanese trope and didn't fit in with the Tekken universe. Some people instantly offered the retort that Tekken has always featured outlandish characters, including a bear, a practice dummy made out of a tree stump (who also has a wife... a wife who is also made out of a tree stump), a small dinosaur, a fighting kangaroo and a lizard, just to name a few of the more colorful characters from the Tekken roster.
Nevertheless, the complaints from social media, the YouTube comments and a NeoGaf thread complaining about Lucky Chloe has resulted in Harada stating the following on Twitter...
You can check out the trailer for Lucky Chloe below and judge for yourself if she's as bad as some of the detractors have made her out to be.
This news was absolutely taken with a grain of salt from the more cynical members of the gaming community, opting instead to believe that perhaps Harada was just joking. Those over on the Anime News Network forum pointed out that Harada is known for trolling the community, very much like Capcom producer Yoshinori Ono and legendary game director Hideo Kojima.
However, the sincerity of the tweets and no apparent backtracking from the comments has led many people to believe that Harada is very serious about restricting. Harada himself actually did address those who thought he was being facetious, stating on Twitter...
Of course, some people still felt that this was just Harada trolling very hard. His final thoughts on the matter were expressed in the following tweet.
Whether or not there will actually be a muscle-bound skinhead to replace Lucky Chloe in the North American version of Tekken 7 remains to be seen, but it does show that if people complain enough developers will listen... for better or for worse.
Staff Writer at CinemaBlend.
Your Daily Blend of Entertainment News
Thank you for signing up to CinemaBlend. You will receive a verification email shortly.
There was a problem. Please refresh the page and try again.