Elder Scrolls Online Being Removed From Stores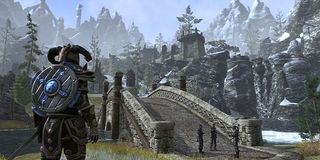 A quiet shutdown or a for-pay game gearing up to go free-to-play? That's the question on everyone's mind as word trickles out that The Elder Scrolls Online is being pulled from shelves at quite a few major retailers.
With a name like The Elder Scrolls attached to it, you would think that Bethesda's MMO would have little trouble jumping off of the shelves. It turns out that that is exactly what is happening around the country, though not in the way the publisher would probably prefer.
According to a recent story over on Kotaku, EB Games has started pulling all copies of The Elder Scrolls Online from their store, along with all pre-paid subscription cards for setting up monthly payments. The pull by date for all of the content is Jan. 13.
The story goes on to explain that EB Games attempted to clear the air over on Facebook, explaining that the removal of The Elder Scrolls Online content from the store is part of regular stock recall operations. Unfortunately, that doesn't actually answer any questions. The type of recalls they're talking about are either for games that have sunk completely or games that need to be shifted around from store to store in order to accommodate demand. That's not the case with TESO, which is just disappearing completely.
The original article, however, posits the most likely scenario: Bethesda could be gearing up to make the game a free-to-play title. Given the fact that the farthest-reaching subscription you can lock down these days is three months, it makes sense that a decently successful game like Scrolls Online would simply be changing its business model. If they'd just time their announcements a little more carefully, however, we wouldn't be left asking all of these questions. If nothing else, being this cryptic about the recall might actually scare away potential customers, making them assume the game is just dead in the water at this point.
It's even more likely that Scrolls Online is going free-to-play because of the simple fact that its name isn't World of Warcraft. While for-pay MMOs were huge five or so years ago, it turns out that gamers only seem to be willing to support one title with a monthly subscription. In this day and age, it's not uncommon for an MMO to come out as a subscription title and then shift to free-to-play within six months to a year. This would also be great timing to make that transition before the game arrives on consoles.
The shift to free-to-play has proven successful for other MMOs like Lord of the Rings Online or even Defiance, which is an MMO shooter. At this point, I'm counting the days until Square Enix makes a similar call with Final Fantasy XIV: A Realm Reborn, though they tend to be more stubborn than some developers.
Either way, it's an interesting puzzle and, hopefully, one that will have a legitimate answer sooner than later.
Staff Writer for CinemaBlend.
Your Daily Blend of Entertainment News
Thank you for signing up to CinemaBlend. You will receive a verification email shortly.
There was a problem. Please refresh the page and try again.