Elite Dangerous Mac Version, Powerplay Update Get Release Dates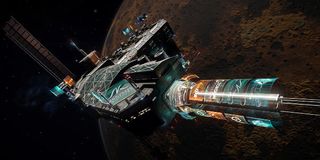 Elite Dangerous will be launching on Mac later this month. Both the PC and Mac versions will be receiving a major new feature as well.
The Mac version of Elite Dangerous will be launching on May 12th, according to the game's latest newsletter. Here are the system requirements on Mac:
Minimum:
NVIDIA GT 650M 1GB or equivalent.
Internet connection (for solo play), broadband internet connection (for multiplayer).
Recommended
NVIDIA GeForce GTX 775M with 2GB video memory or AMD Radeon R9 M290X with 2GB video memory.
Internet connection (for solo play), broadband internet connection (for multiplayer).
"There are no regional restrictions, although the game may not be localised into your language," Frontier Developments said in the FAQ. "The game client works in conjunction with server-based code to deliver its functionality / experience, and therefore requires a continuous internet connection."
If you buy the PC version, you'll get the Mac version for free and vice versa. Furthermore, the game supports cross-platform play so owners of the PC and Mac versions can share - or fight over - the same galaxy.
Speaking of fighting, the Powerplay Update's beta now has a release date: May 20th. The Powerplay Update allows players to join factions that compete for control of the galaxy.
"As a trusted ally of your chosen Power, you will be able to guide their strategy, take on special objectives to advance your shared cause, and dominate human space," Frontier said in their preview of the update. "Your choices and actions will have a direct and visible impact on the balance of galactic power."
Players will earn special rewards by working for their Power. They'll also be able to vote on the faction's future moves. As they gain rank, their voting power will increase.
The peaceful and violent competition between factions will shape the boundaries of the galaxy map. A Power can spread across the galaxy or be wiped out completely. New factions will continually emerge to challenge the established groups. As part of today's newsletter, Frontier provided a screenshot of the evolving galactic map:
The update also includes new tools to help Frontier combat cheating in Elite Dangerous.
"If we detect cheating then we can apply a range of solutions to the problem, depending on the seriousness of the action. Minor infractions receive a warning while the most serious issues may see players receive a shadow ban. Shadow banned players are moved to a separate server without any influence on the galaxy simulation or our honest players. We also have the option of a permanent ban in serious cases of harassment, abuse or account trading."
The Powerplay Update will be available for both the PC and Mac versions. The Xbox One edition of the game, coming later this year, will get the feature as well along with other post-launch updates. The same will probably apply to the possible PS4 version.
Staff Writer at CinemaBlend.
Your Daily Blend of Entertainment News
Thank you for signing up to CinemaBlend. You will receive a verification email shortly.
There was a problem. Please refresh the page and try again.