Epic Unleashes July UDK With Perforce Project Management Utility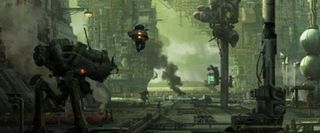 The latest update to the free software development kit of the Unreal Engine, simply labeled as the Unreal Development Kit, is currently available. What's more is that aspiring indie teams and game developers now have access to the Perforce project management utility, which enables teams to network and design assets from the UDK as if they were pipe-lining like a professional development team.
For those of you who aren't quite in-the-know of what the benefits are of a project pipeline, it's basically a networking setup so multiple individuals can work with the design tools without disrupting with the workflow of others. Think of it as a spider who weaves a web from a central location so a bunch of other spiders in different departments can also weave together their own little web while making the center web more stable. That's a horrible example, I know, but that's the best I could come up with in such short notice.
Anyway, the July UDK focuses mostly on fixes and streamlining content via Perforce. Randy DeFauw, technical marketing manager of Perforce Software commented about the collaboration, saying...
The Unreal Development Kit is probably the most renown resource for indie devs alongside the Unity Engine. The UDK is responsible for quite a few games, including stuff like The Ball, Dungeon Defenders, Hawken, Q.U.B.E. and Renegade to name a few.
If you're an upcoming indie dev or a team of developers looking for a great streamlined, triple-A engine and you don't have the funds to license an engine for your project, definitely give the UDK a try (or Unity) as the Perforce management software will easily make the design process that much easier for a small team.
You can learn more about the Unreal Development Kit or Perforce Software by visiting their Official Website.
Staff Writer at CinemaBlend.
Your Daily Blend of Entertainment News
Thank you for signing up to CinemaBlend. You will receive a verification email shortly.
There was a problem. Please refresh the page and try again.