Fallout 4 Launch Trailer Shares Important Story Details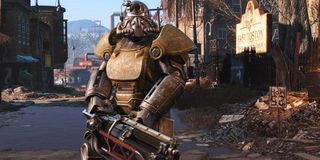 We're only a few short days away from Fallout 4 finally nuking the gaming landscape and so, to prepare, the folks at Bethesda have released a launch trailer that sets the stage for the post-apocalyptic adventure to come.
Aside from a brief reminder that Fallout 4 arrives on Nov. 10, the flavor text for the game's launch trailer is short but sweet. It simply bids you, "Welcome home."
Arriving for the PlayStation 4, Xbox one and Windows PC worldwide next Tuesday, Nov. 10, Fallout 4 opens the Vault on a Boston that has been greatly altered by nuclear explosions and the loss of structure and society. We get a brief look at that world before and after the tragedy of war in the opening moments of the Fallout 4 trailer, including glimpses of locations actual Bostonians will likely recognize.
Once the stage is set, though, we get a closer look at some of the people you'll be meeting in your travels, as well as a few nice shots of both first and third-person combat. In short, the action looks fast, frantic and spritzed with a healthy dose of crimson.
One thing is for sure: Bethesda knows how to keep a hype train rolling. Despite a few unfortunate leaks along the way, all of the legitimate trailers, screenshots and announcements have made me more and more excited to exit the Vault and get to exploring this new and dangerous landscape.
And while my eyes may not have been bleeding, I think it's safe to say that Fallout 4 looks really, really good in motion. If the in-game graphics live up to this launch trailer, I think players are in for a visual treat.
In case you're still hankering for some Fallout goodness to help get you through the next five days, don't forget that you can go ahead and download the official Pip-Boy app for your mobile devices to get a head-start on the game. From the app, you'll be able to interact with the full game while on the go, as well as enjoy some minigames. Once you start playing, you can use it to check your map, review your stats and even keep up with some in-game collectibles. It won't be 100 percent useful until Fallout 4 actually launches, of course, but it could be fun to dink around with through the weekend. You can grab the app now from either Google Play or iTunes (opens in new tab).
As for our readers, we're interested to hear how the Fallout 4 hype train is treating you. Excited to dive into the game at midnight or are you waiting to see how the winter lineup pans out? Let us know in the comments below.
Your Daily Blend of Entertainment News
Staff Writer for CinemaBlend.