New Fallout 4 Mod Lets You Play As Darth Vader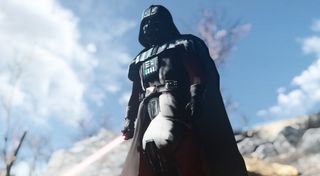 A new mod for Fallout 4 features the dark one himself, Darth Vader. The mod isn't just a simple mesh swap with a lot of wonky animations and stiff clothing effects. This is a proper swap with Havok physics for his cape, breathing effects for his helmet, and even his trademark one-handed lightsaber stance.
IGN added the mod to their weekly collage, highlighting the inventive conversion from Skyrim to Fallout 4. Over on Nexus Mods user invalidfate received permission from a popular Skyrim modder named shigen, to port over the Darth Vader model. But he didn't stop there, he also attached the proper breathing sound effects to a cursed helmet in the game so that Vader sounds slightly closer to his movie counterpart. You can see how it looks in action with the teaser video below from YouTuber bloodironzero.
As mentioned on the Nexus page, the model also has a built-in animation rigging for the single-handed lightsaber pose for Vader- a pose he was known for using throughout the original Star Wars movie trilogy.
The lightsaber mod is available from invalidfate as well over on Nexus Mods, and it's a weapon replacement for the sword. As you can see in the video above, Vader doesn't quite swing it around like an actual lightsaber but instead like some kind of axe-type weapon. It still uses the same death animations as the standard Fallout 4 weapons as well, which is why the lightsaber magically gets stuck in the head of an enemy when it makes direct contact with their face. It looks kind of silly but with some more fine-tuning it might end up looking better in the end. Some of the attacks actually look kind of decent and the sound effects and actual models look good.
According to the Nexus Mods page, invalidfate had to spend some time using the shaders to tweak the glow and look in order to nail the proper lighting of the sabers.
I'm mostly impressed with the model import of Darth Vader. His walk, his cape and the voice modulation with the breathing effect is all pretty cool. It won't be long before we start seeing some really good Fallout 4 machinima featuring Star Wars characters and other popular icons from other media.
For now, modding is still moving a little slow since the official mod tools haven't been made available yet. This limits the kind of scripting and conversion mods that can be accomplished with Fallout 4.
According to Bethesda, the tools should arrive before spring this year. Not only will the toolkit enable PC gamers to expand on what they're capable of doing with Fallout 4, but it will also set the stage for Bethesda's plans to have various mods made for the PC version of the game available to Xbox One owners. Once that gets setup they plan on adding PS4 support later in the year, as well.
You can download the Darth Vader mod for the PC version of Fallout 4 by hitting up the Nexus Mods page.
Staff Writer at CinemaBlend.
Your Daily Blend of Entertainment News
Thank you for signing up to CinemaBlend. You will receive a verification email shortly.
There was a problem. Please refresh the page and try again.