Watch How The Seasons Can Change In New Fallout 4 Mod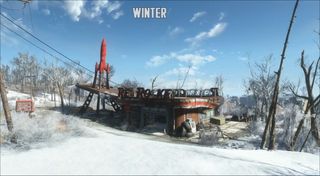 Bethesda still hasn't released the modding toolkit for Fallout 4, but modders are finding new ways to improve the game drastically with a little creativity and ingenuity. Take for example the Fallout 4 Seasons mod, which adds spring, summer, fall and winter themes to the game – it's an impressive feat using just texture and mesh replacements.
Game Informer picked up the news of the new mod, which has been gaining a lot of popularity in the modding community scene. The mod is a collection of other mods from other authors, all put together to resemble different seasons in Fallout 4. You can see how it looks in action with the video below.
Modder RusalkaC explains how this 227MB mod is actually a collection of mesh and texture changes to the environment. As you can see in the video above, each season has a slightly altered look for the trees, foliage and ground. The trees transition between being completely barren to being full of bright green leaves, to being tinted with the hues of autumn and spring.
For some of the locations it gives them a completely different look, almost making them look like all new locations. For as far as immersion is concerned, this mod definitely helps give Fallout 4 a greater sense of environmental depth. The only thing that would make them better yet is if the mod had improved lighting. Then again, if you combine the Seasons mod with the Fr4nsson real-time lighting mod, you could end up with a really cool looking game. The additional enhanced water mod and some ReShade upgrades and you've got yourself the near equivalent of something like GTA IV's iCEnhancer mod or GTA V's Pinnacle of V mod.
According to RusalkaC, the Seasons mod shouldn't burden your PC's performance too much. The textures range from the standard vanilla resolution all the way up to 4K. It's noted that the mod is as optimized as can be, for the time being.
There's also an included alternate spring and summer variation that modifies the trees, but otherwise it's a feature complete mod. In newer versions, after Bethesda releases the creation kit, there are plans to rework the mod in Fallout 4 so that it automatically switches seasons after a certain interval of time. That would be received quite well given that on the YouTube page and in the comment sections the one major request for the mod is to have it automatically switch between seasons while the game is being played.
Some gamers noted that it was a difficult task and something they weren't quite able to pull off in Skyrim, but with the proper tools and a little time, there isn't anything modders can't do.
If you want to add some season flair to your version of Fallout 4, you can do so by heading on over to Nexus Mods and downloading the latest version right now.
Your Daily Blend of Entertainment News
Staff Writer at CinemaBlend.