New Batman Collection Reportedly Leaked By GameStop Employee, Here's What We Know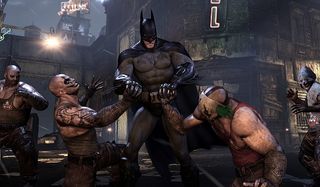 Well it looks like folks who missed out on the original Batman Arkham games might have the opportunity to play them all over again, complete with spruced up graphics and a bunch of extra goodies.
If this rumor turns out to be true, we should be hearing something official soon. That's because, according to the original story posted on Eurogamer, folks will be able to start pre-ordering Batman: Return to Arkham on April 19.
According to the original story, this leak comes to us from a GameStop employee who just couldn't keep their mouth (or phone's camera) shut. What appears to be an official announcement to store employees shows off a bit of artwork for the game, along with information pertaining to what Return to Arkham has to offer.
For starters, the pack is said to include the original games in the series, Arkham Asylum and Arkham City. Those games will boast "updated visuals optimized for PlayStation 4 and Xbox One, as well as all DLC previously released for those games.
Also included in that update is the fact that you can "pre-order form 19th April 2016," which is basically right about now. As for the game's supposed release date, we can apparently expect to see these beefed up Arkham games on store shelves right around E3 2016 on June 10.
According to the story, those images were sent directly to Eurogamer from the GameStop employee, so at least the chain of communication is a short one. That also makes it appear more likely that such a game combining the original Arkham games actually exists but, again, it's not like we'll have to wait long to see if it holds up.
In case you're curious as to why Arkham Origins isn't on the list, it's because that game was actually made by Warner Brothers' Montreal studio and is therefore kind of the black sheep of the collection. Also, Arkham Knight was already on the PS4 and Xbox One, so it makes no sense that it would be included in this kind of package. Both of these games, held by many to be the best in the series, came from the team at Rocksteady.
As a matter of semantics, we're refusing to call this an "HD collection." For starters, the game is called Return to Arkham, according to the supposed GameStop release, not Arkham HD. Secondly, last-gen games were already in high definition. They're apparently getting a graphical boost, sure, but then the proper terminology should be something ridiculous like HD-er, as in it's more HD than HD. But that's just silly, yes?
So, thoughts, concerns or questions? Let us know what you think in the comments below.
Staff Writer for CinemaBlend.
Your Daily Blend of Entertainment News
Thank you for signing up to CinemaBlend. You will receive a verification email shortly.
There was a problem. Please refresh the page and try again.