Five Nights At Freddy's Invades Fallout: New Vegas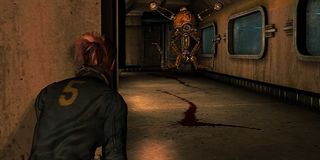 In case you want to inject a bit of spooky atmosphere into Fallout: New Vegas for the Halloween season, a clever modder has crafted a survival horror experience inspired by Five Nights at Freddy's.
The folks at PC Gamer recently stumbled upon the Five Nights at Vault 5 mod, turning Fallout: New Vegas into a terrifying new experience that recalls one of the creepiest indie games of recent years.
The Five Nights mod, which can be found on the Nexus Mods page, has been downloaded by about 500 users with 17 endorsements so far.
According to the mod's description, Vault 5 will be located at the very top of the map and, inside, you'll discover a fully functioning (and fully voiced!) arena to work your way through.
Yep, that certainly sounds like a slightly less terrifying version of Five Nights at Freddy's, a game where the player must survive in one of those pizza funland-style restaurants where the terrifying animatronic mascots have a nasty habit of coming to life and, you know, killing folks. What was once an indie darling for fans of horror has since evolved into a full-on series, with several sequels already on the market and ready to terrify all comers.
With Fallout 4 set to launch this November, now is the perfect time to go back and play games like Fallout 3 and Fallout: New Vegas. And with Halloween just around the corner, it makes perfect sense to tack on the Five Nights at Vault 5 content if you want to enjoy a good scare.
We haven't had an opportunity to fire this bad boy up just yet but, if any of our readers have, we'd be interested to hear what you think about this latest mod for New Vegas. Otherwise, here's a spiffy trailer to help get you in the mood for a series of nights trying to survive some killer robots.
Your Daily Blend of Entertainment News
Staff Writer for CinemaBlend.