Five Nights At Freddy's Looks So Much Better In Unreal Engine 4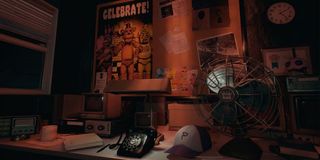 In case Five Nights at Freddy's wasn't already terrifying enough for you, a clever programmer decided to recreate some of the game's imagery in Unreal Engine 4, making things look a whole lot more real. Because, you know, who needs to fall asleep tonight?
Okay, maybe I'm talking up these images a little bit here but, if you've played the now infamous indie horror series, there's probably something here that will remind you of the game and, in turn, stir up some deeply frightening memories.
This "Why would you do that?!" adventure comes to us courtesy of Adam Sklar, who posted details of the project, as well as a bunch of images, over on Reddit. Sklar, who is better known as Sklarlight on the internets, explained that everything you're about to see is nothing more than a conceptual idea, and not representative of a gme in development.
"During a quick break from my current project, I decided to recreate the FNAF1 office in the Unreal Engine 4," Sklar explained. "This then led to posting it on the official FNAF [Facebook] page, and making this conceptual teaser."
Here's a sample of a couple of Sklar's images, beginning with some fun crayon art made by a child with some serious issues.
And how about a look at the main office, where far too much nightmare fuel was orchestrated?
Was there too much bright lighting in that last creepy shot? Well, we can certainly turn down the mood lighting for you.
And in case still images simply aren't your think, Sklar took the process one step further and decided to create a brief video showing off some of their environments in motion.
That's neat and all, but I think part of what makes Five Nights at Freddy's so freaky is how the game is clearly disconnected from reality. There's something about those low-key graphics that make being hunted by animatronic nightmares a little more frightening. I think that's why games like the original Silent Hill and Resident Evil were so scary to me.
Then again, P.T. was hyper realistic and that game managed to make me scream like a child on a few occasions, so what do I know?
Your Daily Blend of Entertainment News
Staff Writer for CinemaBlend.