Five Nights At Freddy's World Isn't A Horror Game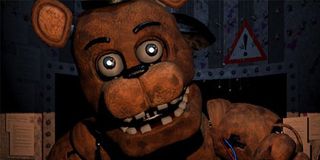 The Five Nights at Freddy's franchise isn't done just yet, designer Scott Cawthon announced on Tuesday. However, the next game in the series - Five Nights At Freddy's World - is going to be very different than its predecessors.
The first four Five Nights installments were horror games but World is actually a role-playing game spin-off. Cawthon revealed the first details for World via Steam:
Five Nights At Freddy's World won't pick up where Five Nights at Freddy's 4 left off, though. Cawthon reiterated that the story is now complete. World will be a completely separate narrative, it seems.
Why make it a Five Nights at Freddy's game at all, then? Cawthon said that he wanted to keep using the characters from the series "because they are so near and dear" to his heart. I'd imagine many fans share that feeling, though some might be disappointed that the main FNaF horror series is officially over.
I'm glad that Cawthon is stepping outside his comfort zone and exploring new ground. It's hard to imagine the story of the game as an RPG, though. Will Freddy Fazbear and his friends be adventuring through the real world? Or will we be in some alternate realm populated entirely by animatronic characters?
Cawthon said in August that the Halloween update for Five Nights At Freddy's 4 could include a demo for his next game. This probably won't be happening, though:
Whenever Five Nights At Freddy's World is released, it will be available for PC along with Android and iOS devices.
The Halloween update for FnAF4 will add new features for players who have completed Night 6 of the game. Players can expect cheats and a challenge menu once the patch is live. However, don't expect any additional story for the game. The mysterious locked box seen at the end of the game is going to remain shut.
This poll is no longer available.
Your Daily Blend of Entertainment News
Staff Writer at CinemaBlend.