Five Nights At Freddy's 4 Halloween Update Will Reveal Designer's Next Game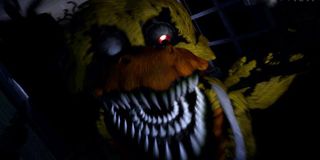 Five Nights at Freddy's 4 will be receiving a free update on Halloween. Today Scott Cawthon revealed on Steam that the update will include a look at his next game.
Cawthon's hoping to include a demo of this future game with the update. If he can't finish it in time, he'll still include some kind of preview. While he didn't spill any details on the project, he at least confirmed that it won't be Five Nights at Freddy's 5. I guess FNaF4 really is the "Final Chapter" after all:
I imagine he'll stay in the horror genre. I think the runaway success of the Five Nights series has revealed there's a serious hunger for 80s-style horror games. Regardless, I'm glad he's forging ahead with something new. It takes a lot of courage not only to leave a hugely successful series behind but then also to dive into something entirely new.
The Halloween update also includes a lot of content for Five Nights at Freddy's 4. If you've beaten Night 6 of the game, you'll find a bunch of new features in the Extras menu including cheats, a challenge menu, and a "a twist on a familiar minigame" for the challenge mode.
What the update won't include, though, is an answer to FNaF4's greatest mystery. When the player completes the game on Nightmare mode, they're shown a locked metal box. When they try to open it, the game provides a cryptic message: "Perhaps some things are best left forgotten, for now."
Cawthon expected players to unravel the mystery behind the box by now. As he says, the community had done such a great job with uncovering every secret in the previous games. However, the mystery for FNAF4 hasn't been unraveled yet and he doesn't see the need to clear it up for everyone:
Five Nights at Freddy's 4 debuted earlier this summer. You can play it on PC or mobile devices.
Staff Writer at CinemaBlend.
Your Daily Blend of Entertainment News
Thank you for signing up to CinemaBlend. You will receive a verification email shortly.
There was a problem. Please refresh the page and try again.