Five Nights At Freddy's Just Joined The RPG World In New PC Game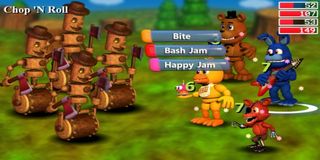 When Five Nights At Freddy's was first released on the PC, it was an unexpected success. People didn't expect the game to be as scary as it was. But before you know it, everyone's posting videos on YouTube of them playing the point-and-click survival horror adventure. Five Nights At Freddy's even had a spinoff Spongebob Squarepants version. But now, after three sequels, Five Nights At Freddy's is getting its own story-mode RPG.
Five Nights At Freddy's World is the new RPG that will include a full story mode offering a selection of 40 of Freddy Fazbear's friends. This time, you won't be in the line of fire for Freddy and his friends' stalking habits, but rather, you'll be on Freddy' team. Check out the teaser trailer below from the game's Steam page.
The video refers to the characters as "cute" now, rather than scary. Five Nights At Freddy's has completely altered the tone and theme of the game from a survival horror point-and-click to a cute and fuzzy RPG littered with bright, vibrant colors and cutesy characteristics. What happened? Some users on Twitter weren't too happy with the announcement either.
The movie the user mentions in his post was actually confirmed by Warner Bros. in early 2015. Seth Grahame-Smith of Katzsmith Productions described the movie as being, "insane, terrifying and weirdly adorable." Katzsmith Productions will be directing the film, but no major details have been released since.
It's a little worrisome that a fantastic indie title that started out as a small, odd survival horror game has been turned into something bouncy and adorable. What will be interesting is whether or not the fanbase will respond positively to the extreme change in tone and theme.
Five Night's At Freddy's World is now available on Steam today for $9.99. We'd love to hear what you think of the new RPG in the comments below.
Your Daily Blend of Entertainment News
Thank you for signing up to CinemaBlend. You will receive a verification email shortly.
There was a problem. Please refresh the page and try again.